Posted by Amy Ryan on 24th May 2017
DIY Fire Pit Kit Ideas
If you want a truly personalized backyard or you just can't find exactly what you want, try a DIY gas fire pit kit to make your own custom piece. It will add personal value and allure to your patio. There's no better way to regain the nostalgia of those favorite childhood memories enjoying the crackle of a camp fire while roasting marshmallows or hot dogs than with your own fire pit. With the convenience of a gas fire pit right in your backyard, you can help recreate those memories and create new ones. Imagine gathering with your friends and family around beautiful dancing flames that look and feel like a real camp fire with just a strike of a match or flip of a switch.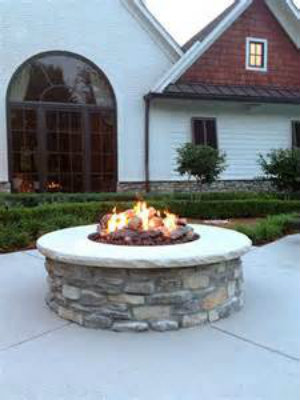 Gas burns are ideal because they burn cleaner then wood which means no soot or embers to deal with and no need to chop or gather wood. And with no lighter fluid required, it couldn't be easier to get that instant warm gratification. Ready to finish fire pit kits are the answer for the DIY fire pit project because they provide you with a foundation and all the basic equipment you will need to get started. All that is left to do is the fixture. Just attach your favorite tile or stone or place in an architectural element, and give it your personal touch.
Before you venture into your project, please educate yourself on basic fire safety such as a secure and open spot to place your fire pit so that it can be enjoyed safely without catching fire on nearby textiles or other flammable items. You will want to place your fire pit away from adjacent buildings or structures, do not place the pit under low hanging branches or trees, or near anything that shouldn't get hot. Make sure to check and be aware of all your local fire codes. Also it is recommended to have the gas line installed by a certified plumber. It is important to use a certified plumber for not only safety but also efficiency, they are trained to size the system to code for the exact supply of gas that is needed for your burners to burn efficiently.
Fire pit burner kits provide a burner, pan, flex hose line, and control valve and key. These are perfect for the do it yourself er that plans on building the structure to house the burner. The crossfire burners in this kit are made from an all brass construction they are extremely durable and will not rust or corrode and come with a life time warranty.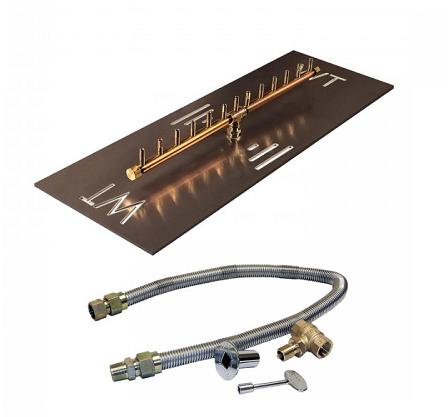 Ready to finish fire pit kits provides a complete kit with everything you need for your project, all that is left for you to do is add your favorite veneer and you will have a personalized fire pit to call your own. This kit is made out of a durable aluminum frame that has concrete board attached. The linear burner in this kit produces flames that are brighter and taller using only half the gas required to produce them.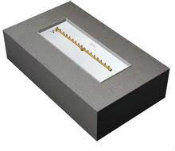 If you need additional information about any of these fire pit kits we are happy to help please visit us at Yardcouture.com.