Posted by Amy Ryan on 14th Nov 2016
Aluminum Planters – an attractive accent to spice up the house or yard
If you are in search of different means to update or add a modern look to your house or back yard, aluminum planters are a fresh way to do just that. Whether it's your yard, deck, or roof top terrace, ornate foliage in a sleek lightweight powder coat aluminum planter can be the epitome of a contemporary outdoor space. A prime reason to consider adding custom planters to embellish your house is the availability of various designs and styles. You may have been inspired by something you saw at a luxury resort and wanted to bring that indulgence to your own home but don't know where to find it. The solution is simple, have a custom planter made to recreate that look. Or you may simply want a design that is uniquely yours, send your design idea to Yard Couture and we can turn that idea into reality. Before you jump in and make the purchase, you should be aware of selecting the right materials and finishes to match your own house and climate. This may be challenging considering the large variety of materials and shapes obtainable. So below are some points to consider regarding aluminum.
Opt for stylish aluminum planter accents for an exceptionally versatile decoration
If you have questions about which type of planter would be the best for your home, Aluminum planters are always an excellent choice. Other than the sharp, clean lines of an impeccably finished planter, there are many other reasons why you should select Aluminum as the material of choice.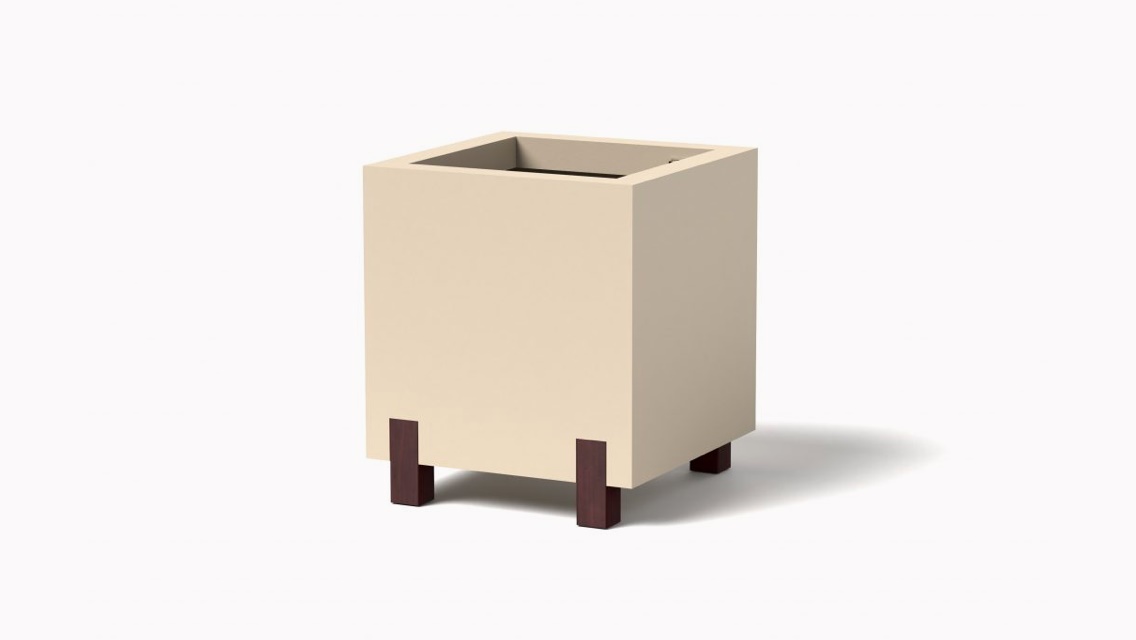 The benefits of Aluminum planters:
Aluminum planters are light weight which makes them more movable if you want to change up the arrangement at a later time.
Aluminum is moldable yet strong. Aluminum can be formed into many shapes and sizes. A big advantage of purchasing an aluminum planter from Yard Couture is they are handmade and therefore the design, color, and finish are customizable to your preferences.
Aluminum planters supplied by Yard Couture can survive the adverse outdoor conditions for several years without any maintenance because of the marine grade quality.
Aluminum will not corrode, the durable properties of aluminum make it a good choice for coastal and other areas that have a high moisture content in the air and soil.In coastal environments the material will outperform galvanized or other inferior steels.
Aluminum does not easily rust and will not transfer color on porous surface such as concrete. Steel does rust and will leave a rust mark over time which is problematic if you ever want to change the layout of your space or if staining is a concern.
Aluminum planters provided by Yard Couture are eco-friendly. They are made from recycled aluminum materials and the powder coating emits low or no VOC's and are fully recyclable.
If you are in search of yard décor or simple decorative pieces for your home or outdoor space, aluminum planters are ideal for many reasons. They will become unique centerpieces or accent pieces to either your outdoor or indoors spaces. Want a particular design or something unique and need some assistance from professionals? Yard Couture is happy to assist you, please give us a call.
Yard Couture is a family-run company that provides Aluminum planters that are FSC certified. We are located in the Wasatch Mountains of Salt Lake City, UT and are dedicated to providing enjoyable artistry accents for your home or outdoor space. With the clean lines of our products such as garden planters, wood burning fire pits, custom modern benches you will find endless options to create your current space that hits the mark. All of our products are handcrafted with care and only use superior quality materials to create exceptional finishes offering exclusivity not only to the decorative item but to the entire house. So if you are presently looking for remarkable yard decoration for your house, you can get in touch with Yard Couture. Our high quality products with top end finish will undoubtedly add aesthetic appeal to your house.