Posted by Amy Ryan on 13th May 2021
Are you shopping for metal garden planters, but don't know where to start? Aluminum has long been a popular material for outdoor design and architecture, but is it good for planters? And is it right for your home or project? Take a look below at our 5 reasons why we think aluminum planter boxes could be the perfect fit for your outdoor living space.
5 Reasons Aluminum Planters are Best:
Aluminum planters will not rust or stain surfaces
Aluminum planters are lightweight in comparison to steel or GFRC
Aluminum is strong, durable, and withstands outdoor elements
Aluminum planters are sustainable, 100% recyclable, and have a low environmental impact
Aluminum can be easily customized to your designs
Aluminum will not Rust or Stain
One major problem with steel planters is that they will rust and stain nearby surfaces. Plants need water; thus, rust and staining are inevitable. When choosing planters for a project, you'll want to ask yourself if staining will be a concern? The last thing you want to do is place a steel planter on your brand new, white Italian stone pavers. If you live in a coastal location, an aluminum planter is also a good choice because it will not rust and will maintain its structural integrity and powder coat finish much longer than steel.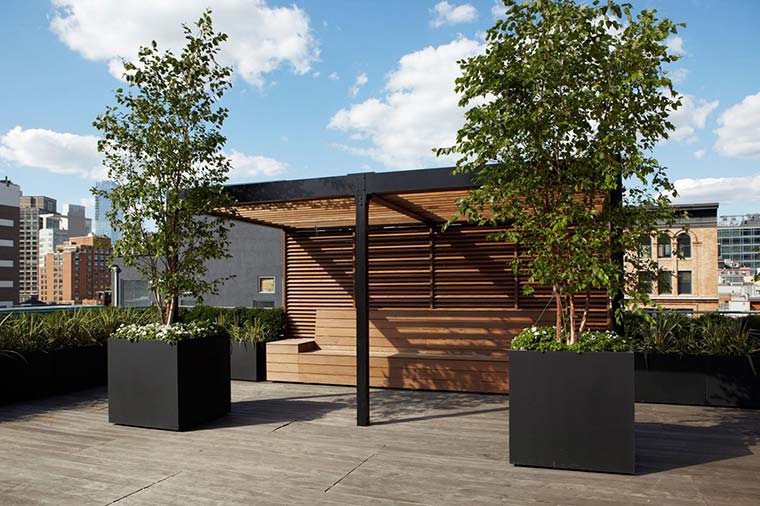 Clean lines, exceptional durability, and endless powder coat finish options make aluminum planter the ideal solution for rooftop deck projects. Photo credit: Plant Specialists
Aluminum Containers are Lightweight
Aluminum typically weighs less than many other planter materials, which translates to easier handling during installation and reduced weight loads for rooftop gardens or decks. Reduced weight loads combined with high strength make it an ideal material for creating landscaping elements. If you desire large metal planters or containers, aluminum is the perfect choice for large scale projects due to lower shipping and installation costs. Aluminum is a lightweight planter material, but do not worry, once filled with soil it will not blow away or tip over in strong winds.
Aluminum Planter Boxes are Strong
Defining aluminum's strength is a bit complex. This element is prized for its ideal balance of strength and malleability. It's versatile enough to be formed into a multitude of crisp architectural shapes, yet strong enough to hold those shapes over time. For example, aluminum may not be stronger than steel in terms of absorbing an impact, yet it is much stronger than steel when resisting corrosive damage from humid or coastal environments. The grade and gauge of aluminum is crucial. In its pure form it is quite soft, but aluminum alloys, such as 5052 marine aluminum create a robust planter box that endures harsh outdoor conditions.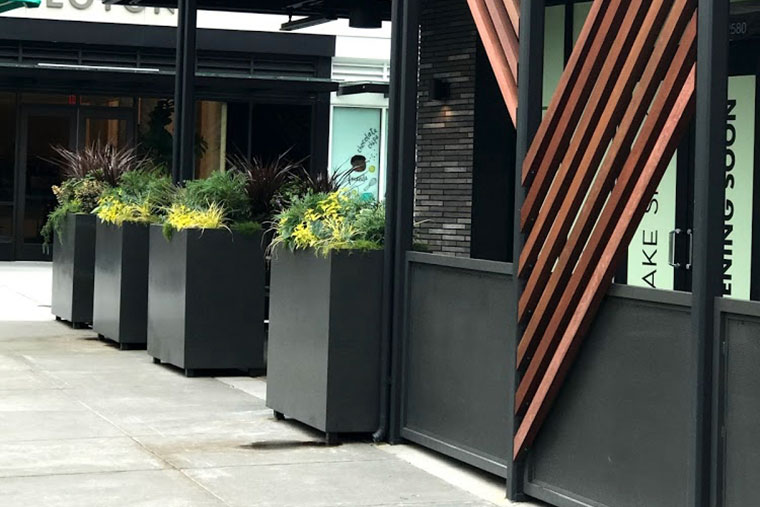 You can use Aluminum planters to define spaces and provide functional beauty to both commercial and residential projects
Aluminum Garden Planters are Sustainable and Eco Friendly
Aluminum is an infinitely recyclable material. In fact, approximately 75% of the aluminum produced since the beginning of time is still actively in use. Not only is aluminum highly recyclable, but it also takes much less energy to reuse aluminum than to produce more, therefore, it will continually be reused due to its economic benefit. When you purchase an aluminum planter box, it will contain recycled materials and can be recycled when it is no longer needed.
Aluminum containers are often powder coated to achieve a rich color and texture. Because of the electrostatic application of powder-coat paint, there are fewer VOCs (volatile organic compounds) released into the air which means the craftsman making aluminum boxes are not exposed to dangerous chemicals, nor owner of the planter box, or the earth's atmosphere.
Customize Aluminum Planters any Size, Color, Dimension
Aluminum planters and bottomless raised garden beds are increasingly popular among landscape artists and outdoor design enthusiasts because of their low maintenance and endless custom design possibilities. With today's advanced powder coating techniques, vivid colors and textures are produced with a near flawless finish when skillfully applied. Rectangle planter boxes are a top choice, but almost any shape can be made to suit your design requests.
At Yard Couture, we offer multiple standard metal planter sizes and finishes, but also have the ability to help bring your custom metal planter designs to life. All of our premium aluminum containers are made from 5052 marine grade aluminum, are exceptionally strong, and are finished with top quality, low VOC powder coat finishes.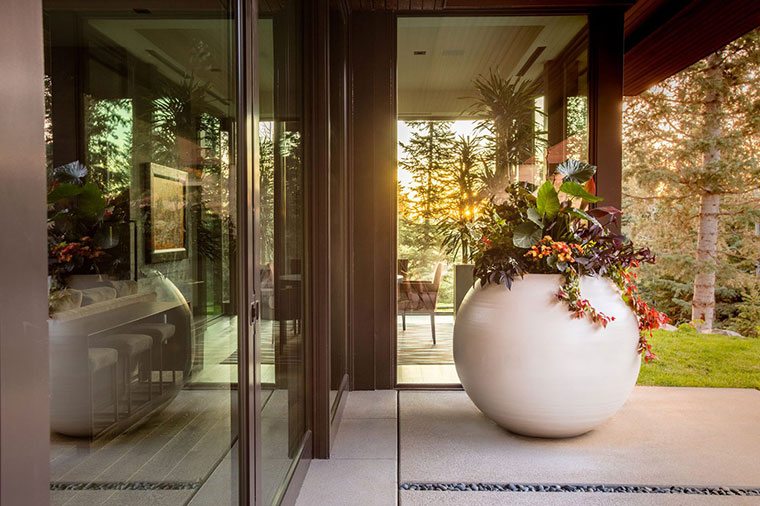 Aluminum planters provide opportunities for beautiful custom designs and a rust free option to avoid staining on light colored decks or patios. Photo credit: Ore Designs
If you need a custom size, shape, or color. Please Contact Us. We're here to help!
Check out Yard Couture's collection of locally crafted aluminum containers and planter boxes by clicking here!
About Yard Couture
Yard Couture is a family-run business located in the scenic Wasatch Mountains of Salt Lake City, UT. We enjoy artistry in all its forms and are inspired by the pure, organic beauty of our planet which is why we strive to preserve it through eco-friendly practices, functional design, and hand-made pieces. We believe any space will cultivate enjoyment with the addition of exquisite and highly functional pieces.
We specialize in the customization and fabrication of metal planters and can build them to meet the design specs of almost any commercial, residential, or DIY project. We are proud to offer Corten steel planters, durable mild steel planters, powder coated aluminum planters, copper planters, and stainless-steel planters. Each of our products are made to order and can be customized, which means sizes, colors, materials, and texture options are limitless to create your specialized item.