Posted by Amy Ryan on 10th Jun 2021
Fire Pit Snuffers vs Fire Pit Lids
Covering your patio, pool, or deck fire pit is a must to keep your fire pit working at its best and safeguard from kids and animals when not in use. Lids and snuffers keep rogue sparks and embers from flying out and damaging nearby objects such as patio furniture while preserving the life of your fire pit investment, but what is the difference between a fire pit lid and a snuffer, and which is the right choice for you?
Below are the key differences between snuffers and lids to help you make the right purchase for your outdoor fire pit:
Outdoor Fire Pit Snuffers
Instantly and completely snuffs out a wood burning fire.
Prevents embers from rekindling.
Made from heavy gauge, heat resistant steel.
Essential for large fire pit openings.
Available in various shapes and sizes including round snuffers, square snuffers, and custom size snuffers.
Dome shaped is recommended to accommodate the height of burn media such as logs.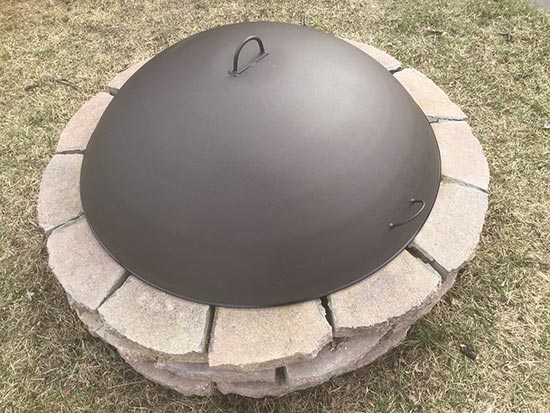 Outdoor Fire Pit Lids
Not to be used for snuffing out a fire, may scorch the finish of aluminum lids.
May be powder coated to seamlessly blend with the fire pit or fire table finish.
Protect family, guests, and pets from scorching hot embers.
Protect your firepit and burn media from debris, precipitation, and critters, thus extending the life and function of your firepit.
Best for propane or natural gas fire pits.
Available as circular lids, rectangular lids, and custom size/shape lids.
Flat fire pit lids transform an outdoor firepit into a convenient coffee table.
Hinged and folding panel lids are ideal for large fire pit openings as it does not need to be lifted and moved to operate your fire pit.

About Yard Couture
Yard Couture is a family-run business located in the scenic Wasatch Mountains of Salt Lake City, UT. We enjoy artistry in all its forms and are inspired by the pure, organic beauty of our planet which is why we strive to preserve it through eco-friendly practices, functional design, and hand-made pieces. We believe any space will cultivate enjoyment with the addition of exquisite and highly functional pieces.
Yard Couture is honored to provide the best fire pit screens, fire pit snuffers, and fire pit lids on the market today. We have several sizes and shapes to choose from including round, square, hinged, and dome shaped. Our fire pit spark screens, grates, lids and snuffer covers are all made from the highest quality materials and manufacturing techniques. For large fire pit openings, hinged and folding panels are the safest option because the lid is large and heavy. The access panels allow one person to tend to the fire without moving the lid or snuffer. Dome shaped snuffers are the best option for wood burning fire pits with logs because it will conveniently fit over the hot logs and will not have to be removed.
If you do not see a lid or snuffer cover that will work for you, we specialize in custom made items. Call us today with your custom dimensions and we will get started on your one-of-a-kind fire pit spark screen, lid, or snuffer cover.