Posted by Amy Ryan on 6th Jul 2021
Summer is gearing up and it is time to savor your outdoor spaces once again. Whether your goal is to turn your backyard into a personal paradise or simply add a few meaningful upgrades, an outdoor propane firepit is a sure-fire way to get your deck, pool, or patio summer worthy. With so many modern propane burning firepit options available, there is truly a flame for every space and budget.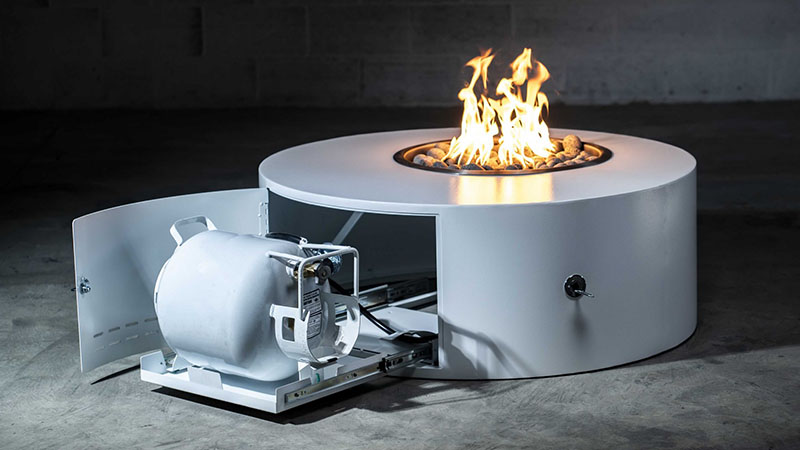 This article focuses on one type of firepit, the hidden tank propane firepit. The latest models of the portable propane gas firepit offer style and an instantaneous, clean burn. If you do not have a gas line or do not want to bother with installing one (although you may), a propane gas fire pit with tank storage may be the best choice for you. There are many other benefits to a propane flicker along with some drawbacks which we will cover in detail. By the end of reading this article, you should know all about propane fire pits, bowls, and tables and which one may be right or wrong for your space and lifestyle.
First let us examine some common misconceptions regarding propane fire pits:
1) The propane tank has an unpleasant appearance.
2) Propane has a smaller BTU (British Thermal Unit/heat) output than natural gas.
3) Propane fuel is expensive.
4) Do you need an air/gas mixer and regulator for a propane tank?
4 Reasons Why a Propane Firepit Might Be Right For You
1) Current Propane Fire Pits ARE Visually Appealing:
Gone are the days of the unsightly propane tank and hardware; contemporary propane-burning fire pits come stocked with storage to hide a gas tank from view such as The Propane Fire Table - Hidden Tank by Ore, inc.
While many propane firepits run off a 20lb BBQ tank, the market's latest additions come with a modified horizonal tank such as the Low-Profile Fire Tables by The Outdoor Plus which include The Isla, The San Juan, and The Gallaway Fire Tables. The horizontal oriented propane tank discreetly slides inside the enclosure providing a chic silhouette at a convenient coffee table height.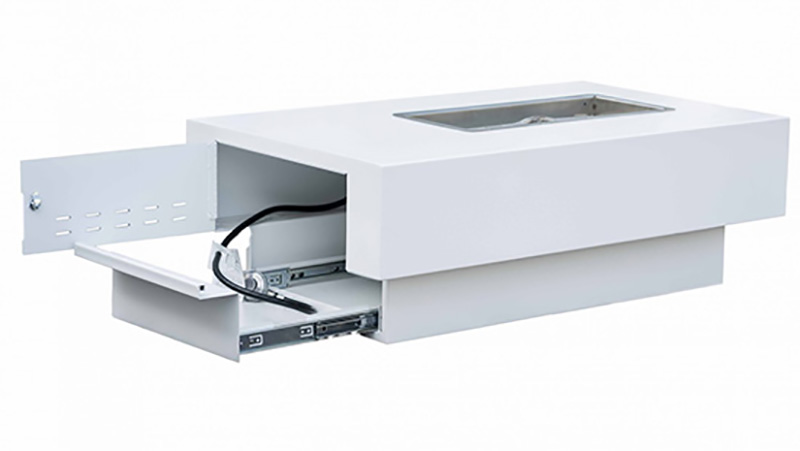 Another trending option to disguise a propane tank is to add a hollow side table for the purpose of housing the propane tank (a propane tank holder) while providing a handy table for snacks and beverages. Whatever option you choose, your tank will be neatly tucked away with nothing to see but the warm glow of your gas fire pit.
2) Propane Fire Pits can have a moderate to large flame, but it depends on the source:
The BTU output of a propane burning fire pit depends on the size of the tank. With a 20lb propane tank, the maximum output will be 65,000 - 125,000 BTU and will require the use a regulator. The BTU rating of a 20lb tank will limit your burner options to sizes that are rated for 125,000 or less BTU. With advanced burner systems, a BTU of 125,000 or less can have a tall and full burn due the ratio of air to gas.
If you have a propane gas line installed, then you will not be limited to a lower BTU fire pit and may have a large blazing fire.
3) Propane is an efficient energy source:
Liquid Propane often referred to as LP is more expensive initially, but since it converts more fuel to BTUs than natural gas you will use less fuel, it will last longer, and may ultimately be the cost-effective option. Propane is heavier than natural gas therefore you will need an air mixer for the reliable and safe function of your propane burning fire pit. You may convert a wood burning fire pit or gas fueled fire pit to propane with a do-it-yourself propane burner kit; however, when converting your fire pit, you must have the correct air/gas mixer and regulator. If you are a newbie to fire pits, consult a certified professional to install your fire pit or fire pit kit.
4) Air-to-Gas Mixers, ventilation, and regulators:
Propane needs an air/gas mixer specifically fitted to the fire pit. An air mixer may sound complicated, but it is not. An air mixer is essentially a small brass/steel connection piece that aerates the propane and converts it from liquid propane to an aerosol or propane gas. Again, Liquid Propane is heavy and must be diluted and combined with oxygen for proper combustion.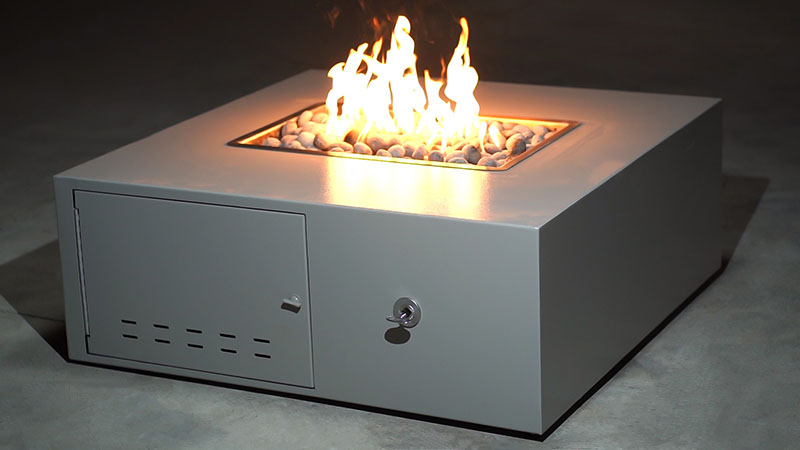 Propane also requires adequate ventilation for safe function. To prevent explosions, airflow gaps and/or ventilation collars should be strategically placed at the base of a fire pit. This is something you must do manually if purchasing a conversion or DIY kit, but if you are purchasing a fire pit specifically designed for propane, this will be included. Always consult the help of a certified professional when installing conversion and DIY kits or connecting air mixers, regulators, or other components.
A gas regulator reduces the high pressure of a propane tank to the low pressure required for your fire pit to operate optimally. If you plan to use a 20 lb. propane tank, you MUST connect it to a regulator. If you plan to use a large propane tank (500 gallon tank), gas pressure and BTU output varies based on distance, gas line size, how many appliances are attached, ect; in this case you should work with a gas professional.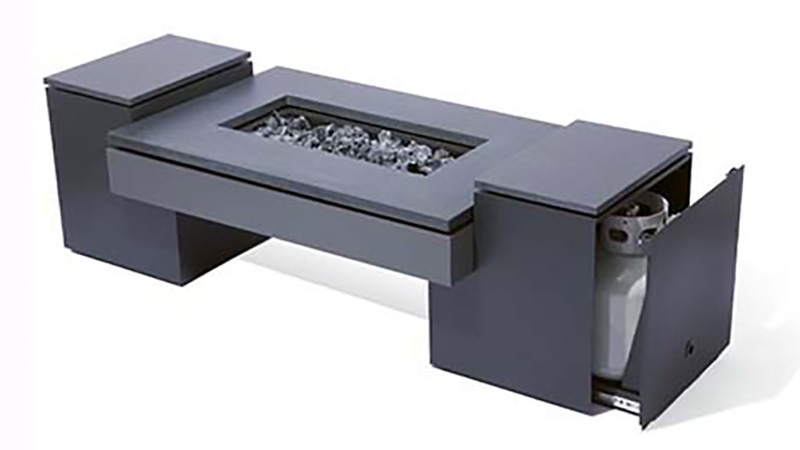 Key Differences Between Propane Burning Fire Pit, Natural Gas Burning Fire Pit, and Woodburning Fire Pits
Propane Tank Fire Pit
Transportable, moveable, detached from property and may possibly relocate with you
Lightweight and compact options available
Easy to Assemble, no professionals necessary in most cases
No Gas Line needed, no construction or building permits required for non-attached models
Remote, Bluetooth, Push Button on/off and flame control upgrades
Safety features, all-weather resistance, and flame management options available
BTU output limitations with bbq tank connection
Air-Gas mixer may be necessary, but some advanced models no longer require this
Low maintenance, low ash, soot, and smoke
Environmental, green burning fuel
Stylish compartment to hide the tank
Range of cost options, from affordable to high-end
Can be filled with decorative fire glass, volcanic rock, high-quality ceramic or steel logs
Natural Gas Burning Fire Pit
Usually a permanent location and affixed to the property
Requires gas line installation and assembly by an experienced professional
Never runs out of fuel, doesn't need refills
Remote, button, or Bluetooth flame control
Safety options, auto-re-light, and flame control features available
Clean, low-soot, eco-friendly burn
Low smoke
Big flame, high BTU output
Expensive
Fill with burn media such as lava stone, fire glass, faux steel or ceramic log to add personal style and disguise hardware
Wood Burning
Natural wood smell
Easy assembly
No installation, hose hookups
Affordable and economical
Compact and lightweight choices
Portable, non-attached or attached – various choices
Contributes to environmental pollution
Burn and smoke restrictions by location and season
Ash and soot are plentiful, and pans and burners must be regularly cleaned
Smoke in eyes and lungs is distracting and unhealthy
Whether its campfire songs or hot dog roasts, fire pits are a great way to enjoy the summer season with family and friends. There are so many outdoor fire pit options available to fit your vibe, but if you still cannot find what you are looking for, custom sizes and finish options are available at Yard Couture or design your own from scratch and have Yard Couture's metal fabricators build it for you.
Order online or with a Yard Couture professional today and have your own made-to-order fire pit shipped straight to your door!