Posted by Amy Ryan on 22nd Aug 2022
If you're like me, you're always on the lookout for the latest home and garden trends. Well, one trend that's been catching my eye lately is gas fire pits with hidden tanks. Wondering what all the fuss is about? Keep reading to find out!
Hidden Tank Fire Pit

Modern gas fire pit is a great way to enjoy the outdoors, but hardware and ugly propane tanks can get in the way. You can hide the tank inside your gas fire pit or in a side console table, making it a more attractive addition to your outdoor space, but in order to hide the tank inside you need a tall, large fire pit. Some residential and commercial spaces require a fire pit with a compact and modern appeal; and that's where the horizontal propane fire pit comes in.
Modern and trendy fire pit designs feature the latest low-profile silhouette. Until recently, this chat/coffee height table was not achievable in propane models because the bulky propane tank took up too much space. We were either left with the option to dig and install a hard gas line or have an unsightly propane tank sitting next to our pretty fire pit. Designers at Yard Couture and The Outdoor Plus thought we could do better. We now offer horizontal propane tank fire pits and have several models to choose from.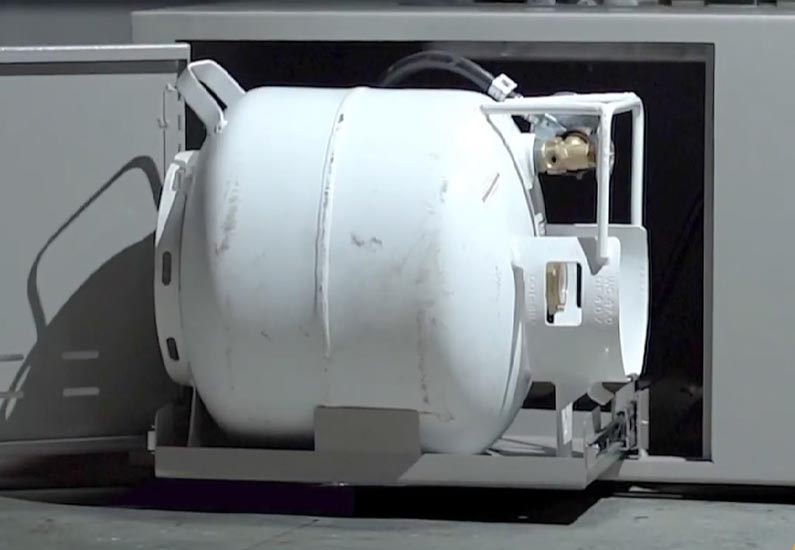 Here's why you should consider incorporating one into your landscaping design this year:
Fire pits with a propane tank hidden inside keep things sophisticated by keeping hardware out of sight.
They are ideal if you do not want to tear up or excavate an existing patio space to install a hard gas line.
Hidden tank fire tables will provide convenient storage, easy access, and are moveable and portable.
A propane tank inside keep can be incorporated into any landscape design and work well with both traditional and modern homes
The fire pits at Yard Couture are of the highest quality yet affordable, extremely durable, and easy to maintain.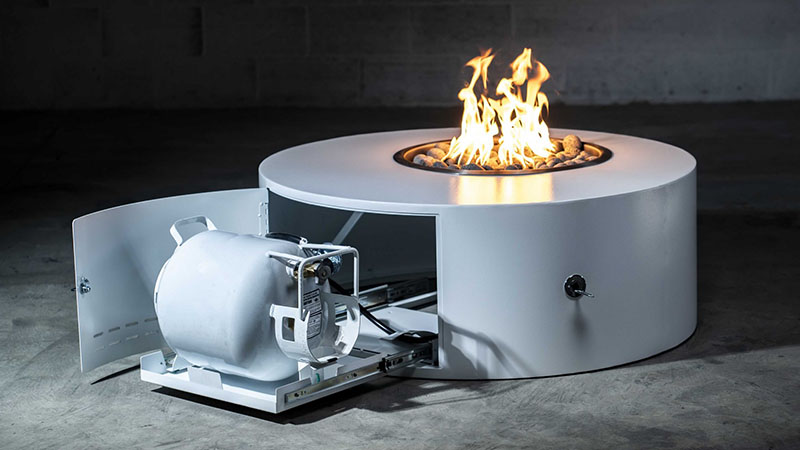 A propane gas fire pits are all the rage and outdoor living spaces are becoming more and more popular. Homeowners are looking for ways to incorporate gas fire pits into their backyards. A gas fire pit is the perfect way to do that, and a hidden tank is the latest trend in this category. Below are tips when shopping for a propane fire pit with space for a tank inside: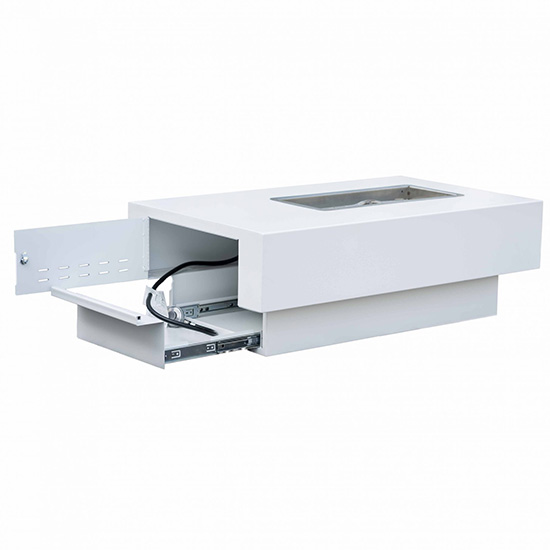 Choose a gas fire pit that is made of durable outdoor materials such as stainless steel, marine grade aluminum, or smooth or hammered copper.
Select a gas fire pit with a base that is large enough to accommodate the size of the propane tank.
Make sure the gas fire pit is properly ventilated so that propane gas can escape.
Look for a gas fire pit that has been tested and certified by a reputable agency.
Choose a gas fire pit that comes with a warranty.
Consider your space, measure, and determine a fire pit that will best fit with 6-10 feet of clearance in all directions.
By following these simple tips, you can safely and effectively find the right fire pit with a propane tank hidden inside. This will allow you to enjoy the benefits of a gas fire pit without having to worry about an unappealing propane tank.
Check out the latest fire pit models that come with a compartment that safely allows for a propane tank to slide inside and also our modern chat/coffee height tables with a horizontal propane tank to achieve a sleek low-profile design.
Find all the latest propane tank designs at Yard Couture! (385) 743-9273