Round Fire Pit Grate
The Round Fire Pit Grate is made in the USA from a durable 5/8" carbon steel bar stock, finished with a high heat resistant electro-statically applied weather resistant black finish. An upgrade from the old cast iron styles this durable grate is built to last and is perfect for campfires, fire pits or wood-burning fire places. You can choose from the standard grate option or upgrade with the addition of the char guard which is a heavy duty steel mesh fitted and welded to the underside of the grate. With the addition of the char guard you have the option to use charcoal, it also helps for complete burn consistency and simplifies ash clean up. The leg height is 4" off the ground.
Please note* Sizing: Round Grates should have minimum gap of 3" all-around. ( Measure inside fire pit and subtract 6" from the diameter")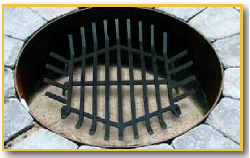 Specifications:
Fire Pit Grate Leg height is 4".

Solid carbon steel framework 5/8" bar stock.

High heat-resistant weather-resistant black finish.

Available char-guard a heavy duty steel mesh that is fitted and welded to the underside.
Free shipping included, lead times are 5-7 business days.
The warranties for the fire pit safety screen and fire grates, to the original owner, against breakage (except breakage due to mishandling and abuse) for 12 months from the date customer receives the product. No warranty on paint- normal weathering and some discoloration may occur depending upon materials burned. Our Return Policy covers damaged or defective products only. If you feel that your product is defective or has been damaged during shipment, please contact one of our Customer Service representatives immediately. If the product is found to be defective or damaged, either a replacement or refund may be issued. Any refund issued will be applied to method of payment that was used at the time of order. If the product was damaged during shipment, we will require for you to provide us with information and pictures of the damaged product including packaging so that we may file a claim with our shipper.