Posted by Karsten Ryan on 20th Oct 2019
Do I Need a Snuffer or Fire Pit Lid?
Recreational fires are trending in backyards across America. In fact, outdoor fire pits are the most requested design feature according to landscape architects and for good reason, fire pits enlighten the senses. It's no secret that people enjoy spending their time with friends and family around the warm blaze and dazzling visuals of an open air fire pit. Before you step out and purchase your own fire pit it is important to understand fire pit design, safety, and local fire regulations. You must also consider investing in the appropriate fire accessories to protect your family and fire pit. Having the proper fire pit snuffer cover or lid is essential to properly extinguish flames and prolong the life of your fire pit.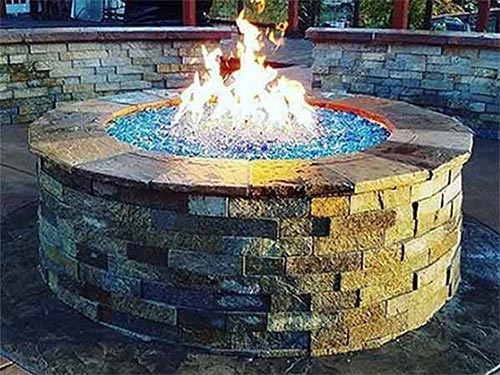 What Should I Know Before Buying a Snuffer Cover or Lid?
1. Be Aware of Rules Pertaining to open burn fire pits. According to some states the definition of a "recreational fire" means a camp-style fire using charcoal or fire wood for cooking or entertainment. Some locations may not permit an open wood burning fire while a gas burning fire is allowed. Laws vary by state, county, and city so look up your local fire code to know the guidelines in your area.
2. Understanding Fire Safety.
A fire pit should be 10-25 feet from any structure, including your home, plants, or bordering properties, check with local laws on required distances in your area. Assess your space to ensure there is plenty of non-flammable area in all directions including above and below the intended placement of your fire pit.

Never place a fire pit beneath any type of enclosure such as a covered porch or dangling branches, fabrics.

Always position a fire pit on a level, stable, and non-flammable surface; patio blocks or concrete are good options.

If you live in a fire prone region, consider surrounding your fire pit with materials that will not ignite, such as crushed stone, brick or sand.

For wood-burning pits, cut logs to a length less than 75% the diameter of the pit. Only burn natural, 6 month seasoned wood. Soft woods like pine are safer because they do not crackle or spark. Avoid plywood, composite woods or other construction materials as they release toxic fumes when burned.

Never use gasoline or lighter fluid to ignite a fire in your fire pit.

Keep a bucket of sand, water, or a hose handy for rogue sparks.

Use fire gloves and position furniture at a safe distance.

Keep children and pets way from fires.

Always completely snuff out your flame

to prevent burns or keep the fire from reigniting. A good fire pit snuffer or cover is the easiest and most reliable way to quickly and completely extinguish a fire.
3. Choose a Well Made Fire Pit. Choose a fire pit constructed from materials withstand high heat, repeated use, and variable outdoor climates and weather. Durable fire pits are made quality time tested material such as high grade steel, iron, copper, or stone. Purchasing a fire pit is an investment that should be protected by proper use. It is recommended to use a fire pit lid or cover to keep water, falling debris and critters from compromising your fire pit.
What is Fire Pit Snuffer?
Fire pit snuffer lids provide a safer way to enjoy a fire by snuffing out a flame completely by depriving the flame of oxygen. A snuffer is a fast, reliable, and safe way to extinguish a flame. It is vital to be aware of fire hazards and take the proper safety precautions to avoid unintentional burns and accidental fires by snuffing out the flame quickly and keep the fire pit covered until it cools down. There are various types, sizes and styles of snuffers, covers, and lids to choose from, each with different advantages in their design. Snuffer lids protect you and your family from fire hazards and protect your fire pit from the outdoor elements such as rain, branches, and haphazard debris that may fall or blow in. Depending on the style of your fire pit so will the type of fire pit lid or snuffer cover needed.
How Do I Measure For a Fire Pit Snuffer or Lid?
Fire pit makers recommend 2-4" of excess around the perimeter of the lid to the opening of your fire pit. Measure the inner diameter of your fire pit opening then add 2-4", this will give you the recommended lid size.
What Is The Best Outdoor Snuffer or Fire Lid for me?
Metal Dome Fire Pit Snuffer Lids
Apart from being visually appealing a dome style fire pit snuffer is used for open wood burning fire pits. It's a convenient option because you can pre-stack your fire wood above the rim into the perfect teepee and the snuffer lid will provide plenty of room to accommodate, just simply lift off and it's ready to be ignited. Dome fire pit lids are primarily used to quickly snuff out flames and protect your fire pit from the outside elements including wind, rain, critters and debris.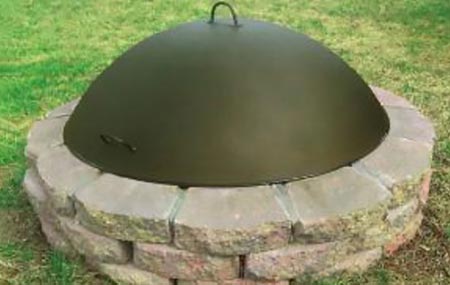 Metal Folding Fire Pit Snuffer Cover
Folding or foldable snuffer lids feature a centered hinge that allow it to fold in half. This helps one tend the fire by accessing only one panel rather than taking the entire lid off. This may be particularly necessary on large fire pits because the lid may be too heavy and large to lift frequently. The hinged snuffer cover also helps for more compact transport and storage when not in use. For in the ground or underground wood burning fire pits, adding a sturdy fire pit lid is essential to block the hole and prevent someone from falling in.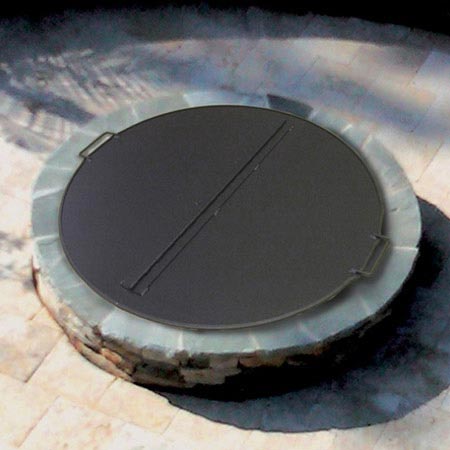 Flat Fire Pit Lids for Gas Fire Pits
Flat fire pit lids are an incredible multi-purpose accessory. They protect your gas fire pit from rust and tarnish while functioning as coffee table to place food or drink when the flame is not being used. A quality gas fire pit lid or cover will also protect your burners and inserts that can be expensive to replace if clogged or corroded. Gas fire pit inserts are often made from stainless steel. Stainless steel is an excellent metal for burners but eventually even stainless steel will corrode causing the gas ports to clog. It's good practice to keep your fire pit clean and check often for even flows of the gas ports making sure there are no obstructions. Again, always cover your fire pit when not in use with a lid or cover to prevent rain, snow and dirt from pooling in your burner pan or entering your burner kit assembly which will eventually corrode the metal. Most burner and insert manufacturers require the use of a lid or cover to stay compliant with their warranties, especially for the electronic or automatic ignitions.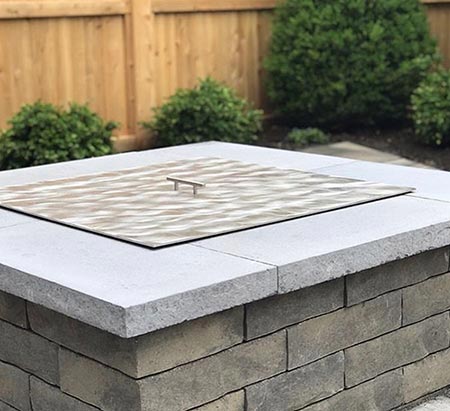 About Yard Couture
Yard Couture is a family-run business located in the scenic Wasatch Mountains of Salt Lake City, UT. We enjoy artistry in all its forms and are inspired by the pure, organic beauty of our planet which is why we strive to preserve it through eco-friendly practices, functional design, and hand-made pieces. We believe any space will cultivate enjoyment with the addition of exquisite and highly functional pieces.
Yard Couture is honored to provide the best fire pit snuffers, lids, and gas fire pit covers on the market today. We have several sizes and shapes to choose from including round, square, hinged, and dome shaped. Our fire pit spark screens, grates, lids and snuffer covers are all made from the highest quality materials and manufacturing techniques. These fire pit accessories are proudly made in the USA by true artisans who have a passion for creating both beautiful and functional products.
If you are in search of the perfect fire pit snuffer lid or cover, YardCouture.com has an many options for any type of fire pit needs. We can also customize any of the lids or snuffer covers to accommodate any fire pit opening. CONTACT US for further information!