Check Your Local Regulations: Check with your local municipality to follow guidelines on gas fire pits.
Choose Your Fuel: Fire Pit Kits work with Natural gas (NG) or Liquid Propane (LP).
Before choosing you Warming Trends Kit, plan for where the gas line will be located a place that is easily accessible for your location.
Natural Gas and Liquid Propane are both clean burning, eco-friendly fuels.
Measure BTUs and Supply Pressure
Gas Supply Pressure - Have an expert measure the gas supply pressure to be sure it meets the required pressure for your gas firepit.
Natural gas Supply Pressure should be set between 3.5" - 7" Water Column.
Propane Supply Pressure should be set between 8" - 11" Water Column.
A 20 lb. propane BBQ tank has an output limit of 90,000 - 125,000 BTUs so the burner you choose must be rated for 125,000 BTUs or less if using this type of tank.
Make Sure Your Burner Kit Fits the Enclosure – Always measure before purchasing a kit!
Measure the internal diameter of your fire pit enclosure from inside edge to inside edge, then subtract 6 inches. This leaves 3 inches of space around the circumference of the burner.
Always measure before buying your insert.
Inside diameter subtract 6 inches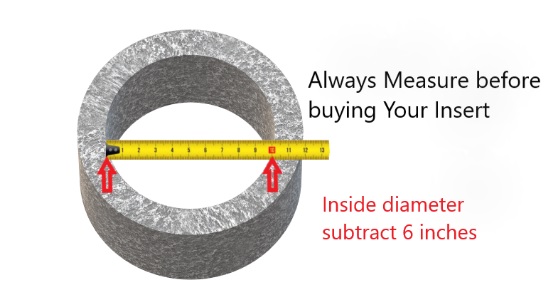 Ignition Options: Match Lit, Push Button, 24 Volt Spark Ignition, or 24 Volt Hot Surface Ignition (SC). See here for more details here.

Fire Pit Plate – A pan/plate is required for propane gas fire pits and highly recommended for all types of fire pit use.
The WT Crossfire Octagonal Burner includes a flat round plate. For safety, always install the fire pit plate approximately 4" below the top surface of your enclosure.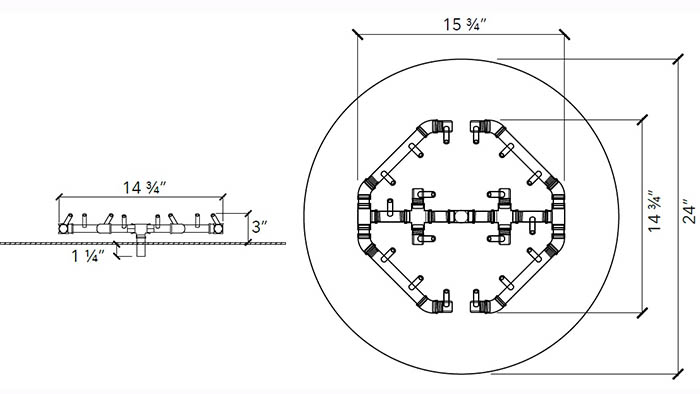 A burner plate or pan is essential when operating a propane fire pit because it separates the air mixer from the burner. A plate helps with air ventilation and drainage for all fire pits.
Ventilation – Sufficient ventilation is required for all Fire Pit Use.
CSA recommends (1) - 36in² vent or (2) 18in² vents on opposing sides to allow proper airflow and minimize risk.
Add Installation Collars – Flexible Collars make it easier to install a fire pit pan.
Collars are optional and you can add them to your Burner Kit. Warming Trend's flexible installation collars bend to fit round shapes and are secured with concrete screws.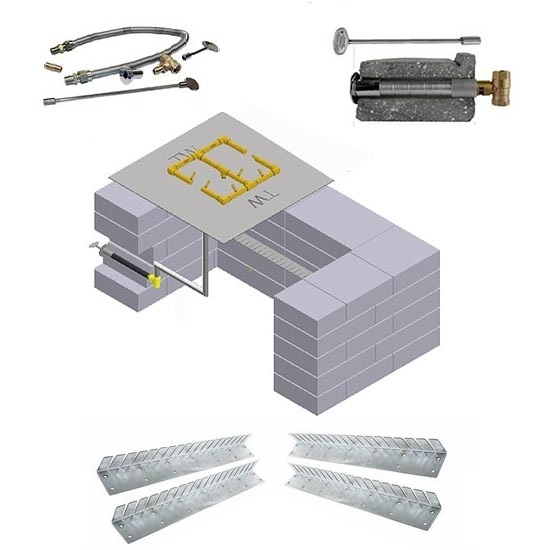 Add Fire Pit Media – To add decorative flair, many choose to fill their gas Fire Pit with Burn Media or a Log Set. The choice is personal preference.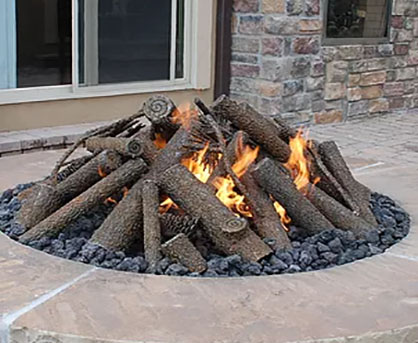 About Yard Couture
Yard Couture is a family-run business located in the scenic Wasatch Mountains of Salt Lake City, UT. We enjoy artistry in all its forms and are inspired by the pure, organic beauty of our planet which is why we strive to preserve it through eco-friendly practices, functional design, and hand-made pieces. We believe any space will cultivate enjoyment with the addition of exquisite and highly functional pieces.
We are proud to sell the highest quality natural gas and propane fire pit kits to provide you with the foundation to create the centerpiece of your outdoor living vision. Our selection of DIY fire pit kits by Warming Trends, The Outdoor Plus and Bobe Water And Fire are the market's finest outdoor fire pit kits when it comes to performance, durability, and value.