Have you ever wondered what it would be like to have your own personal backyard paradise? Something you can visit any time of day, whenever you are home. It is actually quite amazing what can be done to a backyard or back patio space. Adding elements to your patio design such as handcrafted copper water/fire bowls, or gas tiki torches and comfortable lunge seating can take a dull space and turn it into the cool new hang out spot that everyone wants to enjoy.
Here is something so special about being outside. Today, we find ourselves caught indoors more and more, with rare occasion to step out the doors. The backyard can become more than just a space where you let the dogs out. Instead it can be a little oasis, perfect for spring, summer, fall cookouts and social gatherings, or just an intimate evening by the gas fire pit.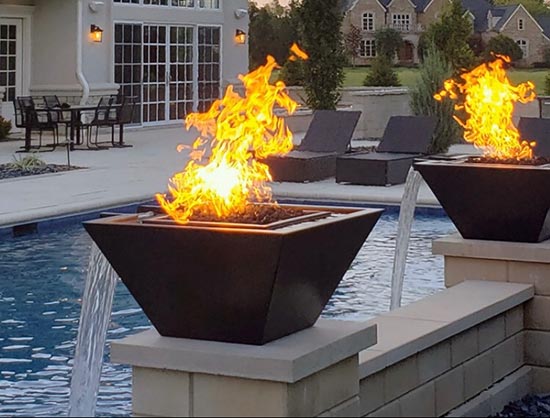 We all have different tastes and values, but when the seasons change from winter to spring, there is a feeling that fills the air. One part freedom, one part freshness, one part clarity. It's not something that words can really express, but it is something we all can feel. It's that moment of spring cleaning, a sensation that clears the air, opens a space, and fills you with joy and harmony. This is not something that is only available when spring shows its face. This is a feeling you can grasp at any moment, but it is hard to realize this. Sometimes, the best thing to do to trigger this feeling is to step outside.
Imagine this. You are feeling sluggish and stagnant, you are seeking to be renewed, all the work and worry in the world has got you down. You step out for some fresh air into your own backyard, all the space available in the city. First thing you hear is trickling water cascading down, like a stream in the mountains, the sound is calming and inviting, it cools any discomfort you feel. Second you see the space. Water pouring from water spillway bowls, through metal scuppers and into spillways. Tiki torches line the outer edge of your pool deck, chairs surround the fire pit and plants fill in the empty spaces, making the whole space feel right and connected. At the center of it all is a beautiful granite counter top surrounding a hammered copper fit pit. This centerpiece brings the whole space together, turning a bland backyard or patio into the cool and refreshing place you need.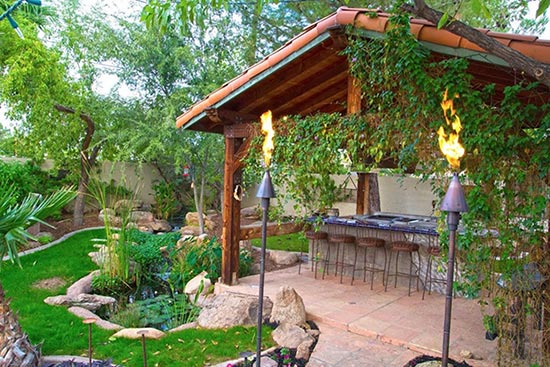 Creating Your Outdoor Living Space
You're probably wondering, how can I make this dream into a reality? Well there are a few things that you should know.
The best place to start is at the center. The fire pit. Fire pits make a great centerpiece, bringing the energy of the space together as well as bringing people together. If you've never owned a fire pit or experienced one, you've a lot to look forward to. When night falls, a fire pit gives you a great way to enjoy the night. It keeps you warm and lights up the dark, creating an atmosphere of calm and safety. No wonder people thousands of years ago spent their nights seated around fires. That is what this is all about, creating atmosphere. Each piece of the space is just as important as the next. You can certainly have a random metal container and put fire in it, then sit on rickety wooden chairs. But this will not create a good atmosphere. The space will feel uninviting and practically force you away from it. Now with the RIGHT pieces, the space will draw you in, you won't be able to help but sit in it. Every time you enter it, you'll be refreshed and filled with joy.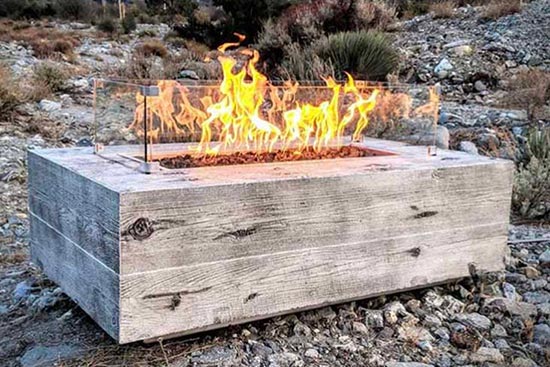 As I was saying, the centerpiece is very important, so be sure to choose the right one, based on your preferences. At Yard Couture, there is a wide variety of fire pit options. There are fire tables, fire dishes, water & fire bowls, and of course, standard fire pits. There are a variety of styles too. Some small, some big, rectangular, circular, granite tops, glass surrounding the fire, mild steel, corten steel, hammered copper, GFRC concrete, or marine-grade aluminum. These fire pits also come with various fuel options: wood-burning, natural gas, and propane.
The first thing to do, when choosing your center piece is picking the option that fits you best. Take a moment to browse a few different options, read the specs, get a feel for the size and look of the fire pit. This will help you imagine what you want in your own space. This is the most important part of the process. If you cannot imagine what you want, then you cannot create it! At Yard Couture we want to help you create your dream space. For some amazing ideas click this link and browse Yard Couture's options.
How to choose?
After looking at all those options, you may be thinking, what's best for me? Here are some simple ways to choose:
Looking for the next best thing to camping in a forest, in the desert, or on the beach? Go with a fire pit. Fire pits are metal containers, can be circular, rectangular or squared, lifted off the ground, and with wood burning pits often have a metal spark screen to go over the top of them. The metal screens are especially useful if you have a wood burning pit, as wood has a tendency to crack and pop from and moisture within the wood. Add enough heat to water, it pressurizes, and POP! The wood splits and bursts. Of course, this is not a huge explosion and is perfectly normal, so nothing to worry about. However, it is a good reason to get a metal cover for the fire, just in case.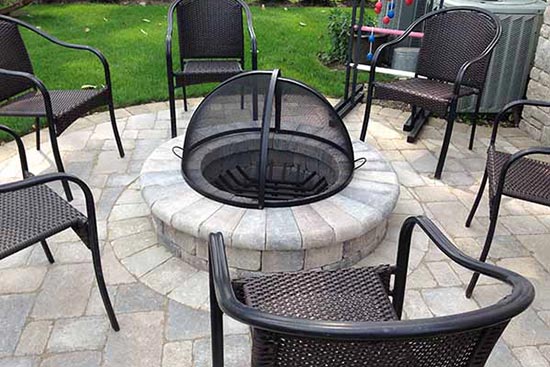 Looking to hang out with friends with a place to rest your feet, food or drink? Go with a fire table. Fire tables are like the fire pit, but have counter top (generally granite) that surrounds the pit. The granite counter comes in four pieces and has seams to allow for thermal expansion. When a material is heated, it expands, if the seams were not there, the pieces would press into each other, eventually leading to cracks and breakage. No one wants to rest their feet on broken granite. Another great option is adding glass surrounding the pit. This protects against some of the heat, so a beer on the table won't over heat and leg hair won't be singed. Believe me, you do not want to smell singed leg hair.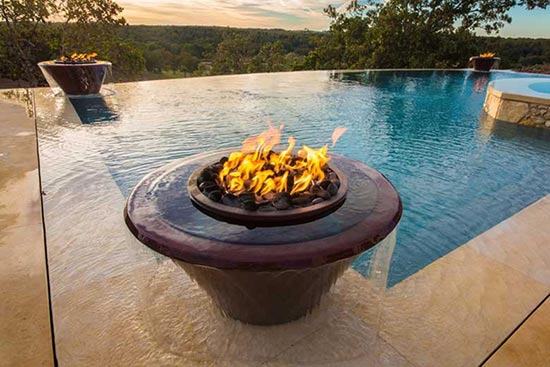 Looking for the best of both worlds, fire and water? Go with the water & fire pot or bowl: shown above is the Bobe 360 Degree Spill Water And Fire Torch. These are some of the coolest pieces we at Yard Couture offer! However, these require a body of water for the water to pour into. A pool, pond, or spa or custom water feature are great options. These definitely make better edge pieces, but if your space is snuggled up against the edge of a pool or pond, there's nothing stopping you from making a water & fire bowl the center piece, you just won't be able to go ALL the way around it.
Filling in The Edges
Now that you've got a better idea about the focal point of the space, let's turn our attention to the surrounding features. Yard Couture has lots of great options to fill the space and give your yard that homey, intimate feel. We started with fire, so let's move to an opposite to create balance in your space. Water is a great way to balance fire, which is one reason that the water & fire pots are so cool! Of course, we do have to be careful, water smothers fire, stamping it out with ease, so too much water would overpower the centerpiece. Luckily, the water & fire pots have options for stone to go between the water and fire, stone, being earth creates a wall to keep the fire safe.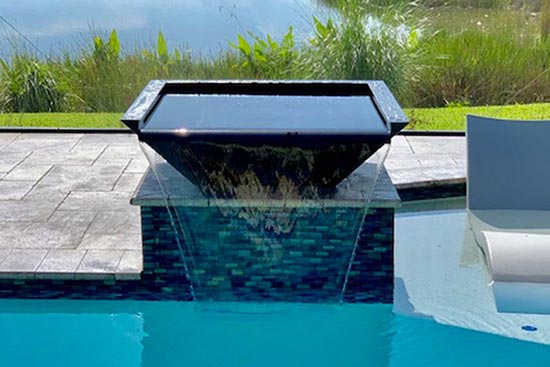 Getting back to the surrounding space, we move all the way to the far edges. Imagine two or three basins of water, overflowing and pouring into a hand built stream, pond, or pool. That would be one side of the space, not too close to the centered flame (unless you're one of those rebels using a water & fire pot as your center piece). Don't forget to choose your favorite scupper or spillway, these are a vital part of the water bowls. Between some of the water features and moving out and around, gas tiki torches and other fire features surround the space you're creating.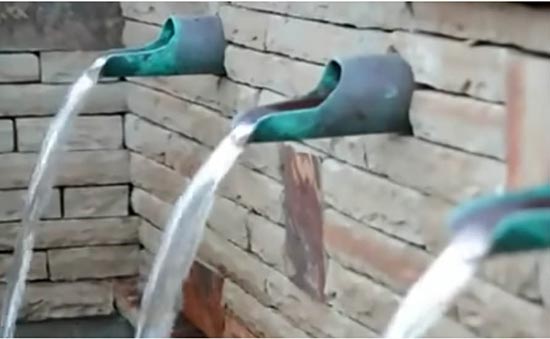 At Yard Couture, there are some awesome and unusual tiki torches called Tangled Fire Torches. These are wrapped metal in a tangled basket shape with flames filling their interior. These make a great accent piece that catches the eye of anyone entering the space. Other than the Tangled Fire Torch, there are also the Torche and Balle. The two options have a special effect on the flame. The Tiki Balle has a screen toward the top of the torch, which allows some of the flame to rise out of the sides, creating a fuller and bigger flame. The torch has a nozzle at the top to direct the flame up, creating a tall and narrow flame. It's up to you! Both are beautifully made with precision and care.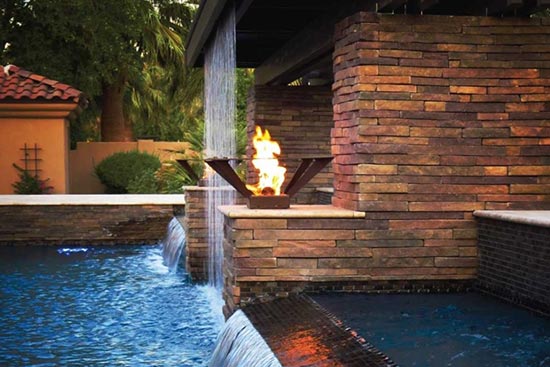 More option for torches is the Bobe Round Flight Series Gas Torch. This is a great addition to any pillars that are looking drab and lonesome. Imagine a huge flame rising up from that lone pillar. Not so boring now! These torches make great accents will blow the common man's backyard out of the water. Now, be aware, these do need room to breathe. A fire this big, works best in a bigger space.
Create It!
Yard Couture has so many options to choose from, all of which can help you create the dream outdoor space you imagine. As you put together the pieces in your mind, remember that the next step is to put the pieces together in real life. No matter how inventive your imagination, the space can't be real unless you're willing to put in the time and create it, but you don't need to do it alone. Yard Couture is here to help you in this process. If you find that you want to create the patio living space, with an atmosphere of perfection and beauty, get in touch with Yard Couture today!
About Yard Couture
Yard Couture is a family-run business located in the scenic Wasatch Mountains of Salt Lake City, UT. We enjoy artistry in all its forms and are inspired by the pure, organic beauty of our planet which is why we strive to preserve it through eco-friendly practices, functional design, and hand-made pieces. We believe any space will cultivate enjoyment with the addition of exquisite and highly functional pieces.
We are proud to sell superior outdoor architectural elements that are hand-made in the USA by skilled artisans with premium materials and finishes. We carry various water fountains, pool scuppers, and spillways, and fire water features that are manufactured from Copper, GFRC Concrete, Corten or Stainless Steel. Whether you desire a copper fountain for your soothing Zen Garden, gas tiki torches to light your walkway, or a combination of a fire and water fountain and Bobe pool scuppers for your pool deck, we have many options to choose from.