Posted by Amy Ryan on 15th Jul 2023
There are several types of lids and screens available for outdoor fire pits, each coming with their own unique features and functions. The key differences between these lids and screens primarily revolve around materials, functionality, and design.
Common types of fire pit covers you might come across: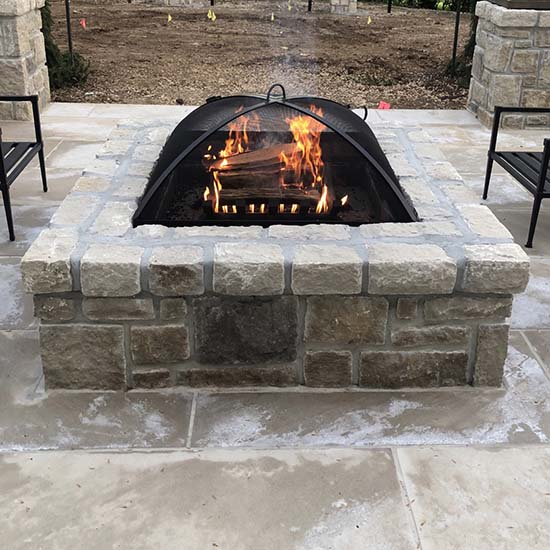 Spark Screen Arrestors: This type of screen is designed to prevent sparks, embers, and debris from escaping the fire pit. It usually consists of a mesh screen made of metal, such as steel or stainless steel. The fine mesh allows heat and smoke to escape while keeping larger particles contained.
Solid Metal Lid/Snuffer: A solid metal lid, typically made of carbon steel or stainless steel or cast iron, provides complete coverage for your fire pit. It acts as a barrier to contain the flames of a wood burning fire and extinguish the fire when needed. Solid lids are useful for keeping rainwater out and preventing accidental contact with the fire.
Tabletop Lid: Some fire pits come with a lid that can also function as a tabletop or a grill grate. These versatile lids often feature a removable center section, allowing you to access the fire when it's open or convert the fire pit into a usable surface for placing drinks or cooking food.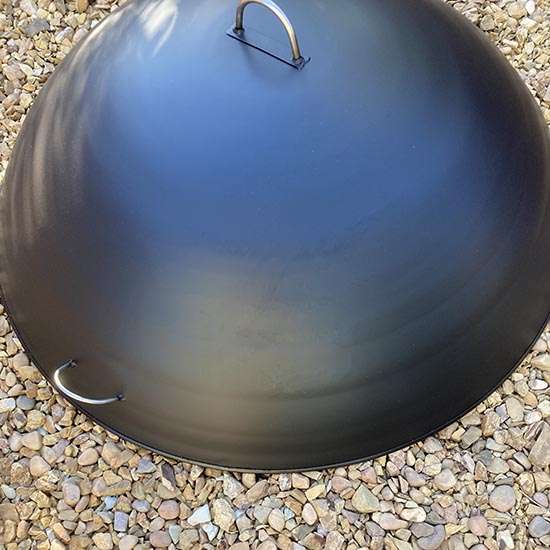 Dome Lid: Dome lids have a rounded shape and are commonly used for fire pits with a circular-shaped design. They offer good protection against rain and wind and help retain heat within the fire pit. Dome lids can be made of various materials, including steel or aluminum.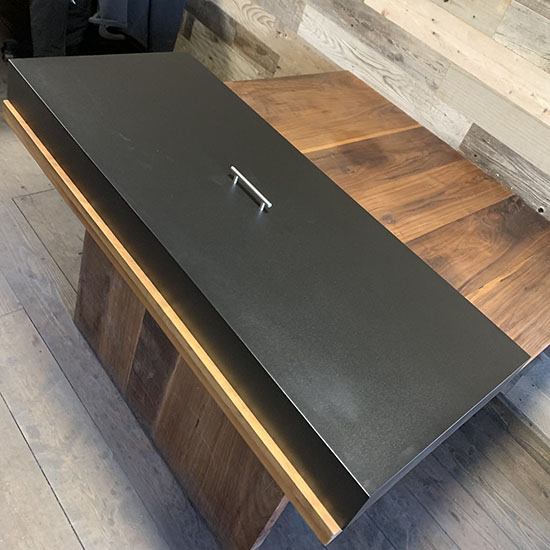 Custom-Made Lids: Depending on the design and size of your fire pit, you might need a custom-made lid. These lids are tailored specifically to fit your fire pit's dimensions and shape. They can be made from materials like stainless steel, copper, or aluminum, and their functionality can be customized to suit your specific needs. Yard Couture specializes in custom made fire pit lids. You can view various styles on our website and then email or call us with the dimensions and materials you need.

When choosing a material for an outdoor fire pit lid, it's important to consider factors such as durability, heat resistance, and weather resistance.
Here are a few materials commonly used for fire pit lids: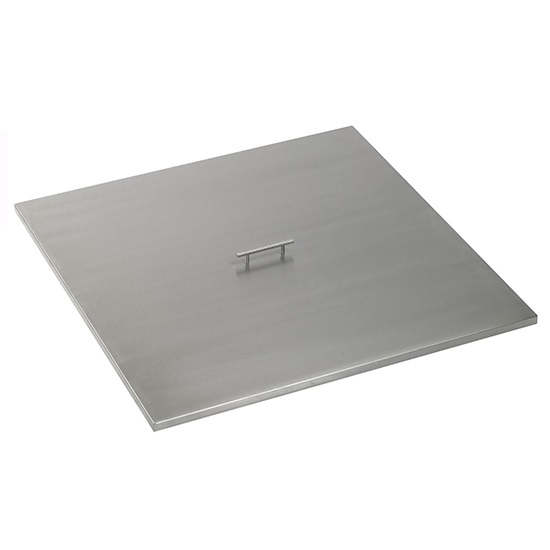 Stainless Steel: Stainless steel is a popular choice due to its strength, corrosion resistance, and ability to withstand high temperatures. It is durable and relatively low maintenance. Look for stainless steel fire pit lids with a thickness of at least 14 gauge or better. USA stainless steel is pure and there are strict regulations to ensure you are getting what you paid for. Imported steels may be adulterated with inferior metals and not retain the superior properties of 100% USA steel. High temp fire paint with keep your stainless-steel lid looking great and offer additional protection against high heat and outdoor elements.
Carbon Steel: Carbon steel is known for its exceptional heat retention properties. It is durable and can handle high temperatures. However, carbon steel lids require regular maintenance to prevent rusting. Storing it in a dry place when not in use is essential. Carbon steel heaver then aluminum, and may be more difficult to move, stays scorching hot, and easily rusts if not maintained.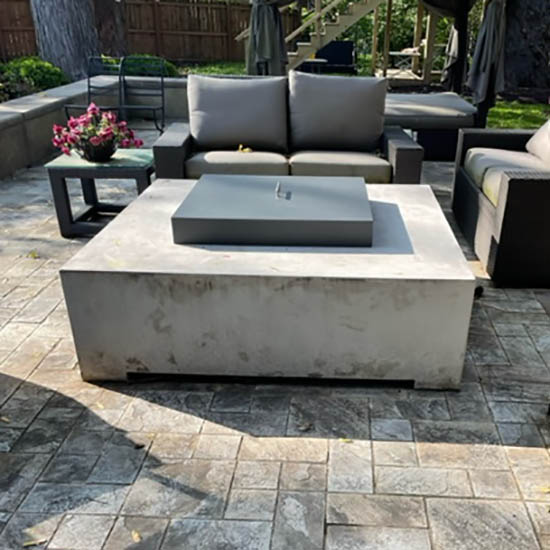 Aluminum: Aluminum is lightweight, rust-resistant, and has good resistance to high-heat. It is often chosen for its ease of handling and durability. Aluminum looks its best when coated with a powder coat finish. Powder coat paint is low maintenance, comes in endless colors to match your outdoor décor and will endure if certified, outdoor, high-heat paint is used and applied correctly, such as through a high-heat thermos-static bonding process as is done by skilled technicians in the USA at Yard Couture. Note* We do not recommend snuffing out wood burning flames with a powder coated aluminum lid because will scorch its finish. Our aluminum lids are made to cover and protect the underlying fire pit opening for the outdoor elements.
Copper: Copper lids can add an attractive aesthetic to your fire pit. A copper fire pit cover is durable and has good heat conductivity. Over time, copper develops a natural patina, which adds character to the lid. However, copper can be more expensive compared to other materials.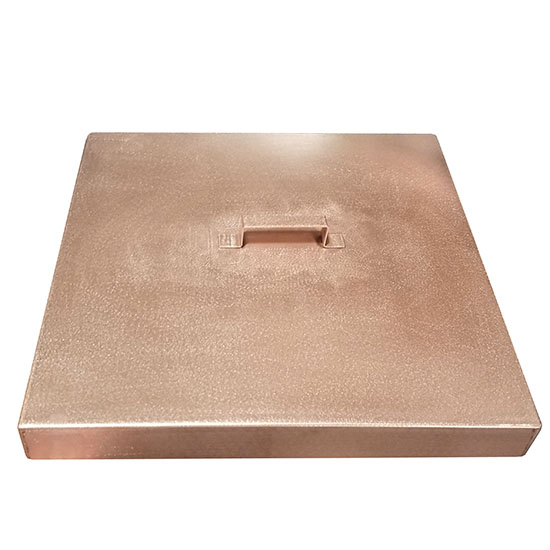 Remember that fire pit lids are primarily used to cover and protect the fire pit when it is not in use. Ensure that the lid fits securely and covers the entire fire pit to prevent debris from entering and to extinguish the fire completely.
When choosing a lid for your outdoor fire pit, consider factors such as the desired level of protection, the fire pit's design, and your intended use. Always follow the manufacturer's recommendations regarding the appropriate lid for your fire pit model, as they will ensure optimal safety and functionality.
At Yard Couture, we specialize in premium-quality materials sourced and precision-machined in the USA to ensure a product that will last decades. Call or email about your custom order today. We have knowledgeable staff ready to talk.