Finishes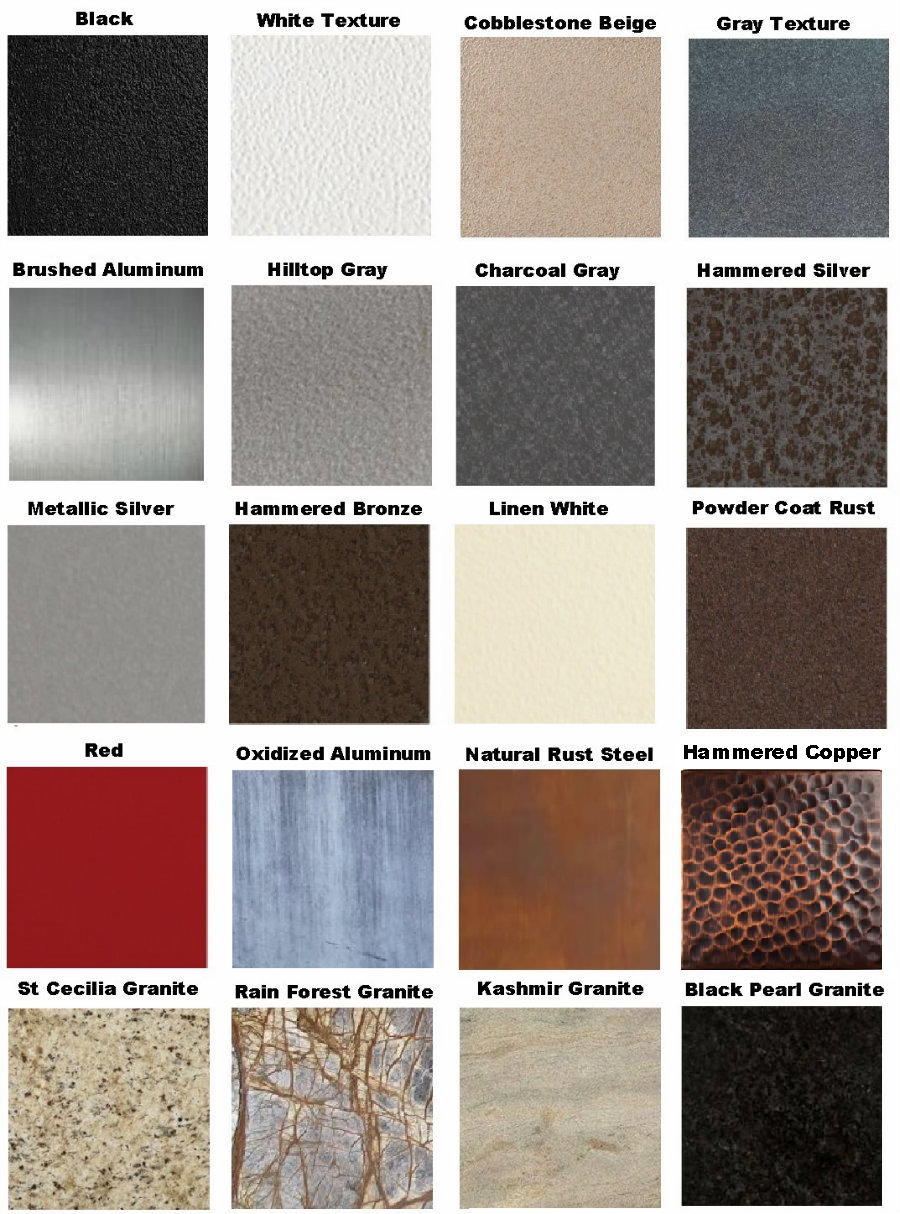 The products we carry have excellent warranties in order to assure quality service. Check out the Online Gallery for more details about all of our innovative products.
Aluminum
The aluminum planters and fire pits are made from high quality 11 gauge, 5052 marine grade alloy. This powder coated aluminum alloy is light weight, exceptionally strong, durable, and is a rust and virtually maintenance-free product. Aluminum alloy is the perfect solution for highly corrosive environments, urban roof terrace installation, or for placement on porous or easily stained surfaces. The powder coating process takes place in a precision oven which produces an impeccable flawless finish and is available in 8 standard colors. We are able to reproduce almost any color you may need, refer to the RAL color table for options. During the powder coat finish process, there are low to no emissions of volatile organic compounds (VOCs) released, which helps protect both our environment and your health..
Oxidized Aluminum Patina
The oxidized zinc aluminum option is great for industrial architecture without the toxicity of lead. A proprietary process developed by Ore treats the aluminum which allows it to oxidize and patina. When the product arrives it will be in an unfinished state gray in color and will continue to develop and patina. In coastal areas with higher humidity, the color will gradually change to a more white patina over time. This finish works perfectly for modern industrial spaces.
Cor-Ten Steel
Cor-Ten or weathering steel is made from a heavy gauge 606 alloy. This material is extremely versatile and blends in with both a raw conceptual industrial design but also harmonizes beautifully with a spiritual feng-shui living space. Cor-Ten is an optimal architectural element because of its flexibility to work as a contemporary industrial element with a touch of natural organic beauty, yet comes with built-in protective weathering qualities. An ultra-durable material that is perfect for all indoor and outdoor environments, as well as for commercial projects. Cor ten's unique properties allow the steel to create an oxidized protective coating around the metal, unlike other steels that will eventually rust through. Cor-Ten products are available only in a natural rust patina finish because they will continue to patina and change over time.
Mild Steel
Our mild metal finish is great for those looking for a more affordable option, but don't want to sacrifice great quality or design. It is made from high quality 14 gauge hot rolled steel. Mild steel is valued for its durability and contemporary industrial appearance. It will continue to patina and change over time and is available in its raw state. Mild steel products are available in a natural rust patina finish.
*Note: Natural rust patina products will transfer color to light colored or porous surfaces. They are not recommended in areas where surface staining is a concern.
*Wood burning fire pits are only available in mild steel or cor-ten with the natural rust finish due to the variable heat of a wood burning fire. All fire pits are for outdoor use only!
Copper
Copper is an ideal material because its corrosion resistance, lightweight and durable. During atmospheric exposure a patina will change the metallic luster of the copper to a more brownish finish in within in just a short period of time (days to weeks depending on exposure and environment). The copper finishes applied to the fire pits and planters are made with a %100 16 gauge copper formed and shaped by experienced artisans who have passion for their craft which is expressed in the flawless finished product.
Galvanized Steel
Galvanized steel has an outstanding resistance to mechanical damage such as scuffs or dings. Galvanizing steel is a process of applying a protective zinc coating to prevent rusting and corrosion which in turn provides cathodic or sacrificial protection to the steel if it is exposed by damage of the powder coating.
Innovative Custom Gas Fire Pits
Enhance Your Outdoor living Now With Quality Gas Fire Pit Tables, Custom Aluminum Garden Planters and Contemporary Benches!
Fire pits are an elegant and unique addition that can provide a nice accent piece to your outdoor patio or backyard garden. Aside from that they also offer the ultimate gathering place for your friends and family to relax and enjoy the ambiance of a warm flame.There are many benefits of having a gas fire pit for your home, at Yard Couture we offer a wide variety and selection of awesome gas and wood burning fire pits to fit your style and needs. Our products are available in limitless design options from shapes and sizes ranging from residential to commercial use. Our cool and contemporary outdoor gas fire pits, fire tables, garden planters and benches are made with superior craftsmanship and are a sure way to add character to the exterior of your home or patio garden. The addition of a fire pit creates a convenient vacation destination spot without leaving the confines of your backyard.
The outdoor gas fire pit tables are made with only high quality materials and manufactured by skilled craftsmen to ensure a flawless look made to withstand the test of time. We offer a wide variety of modern steel fire pit table designs that will suit anyone's tastes. Our fire pit table designs will provide an aesthetic and relaxing appeal to your home or even to your office.
At Yard Couture we have the ability to customize all of the gas and wood burning fire pits and fire tables by offering accessories such as fire pit glass, fire pit lids, multiple burner options, custom sizing and finishes so that you can personalize the fire pit to fit your needs.
To complete your dream of having an elegant and sophisticated outdoor or indoor space, we have other products that will complement these fire pits like luxury patio furniture, modern garden benches and large metal planters.