Posted by Amy Ryan on 3rd Sep 2018
Gathering around a campfire with family and friends on a clear starry night creates lasting memories. A growing number of people desire to recreate this magical experience in the intimacy and accessibility of their own backyard. The use of urban wood burning outdoor fire pits is on the rise not only for ambience but for warmth and even cooking, yet with fire comes risks that must be mitigated which is why getting a quality fire pit spark screen is an essential first step to safely enjoying your fire pit.
Being aware of potential fire hazards and local municipal fire codes ensure that you can safely enjoy your fire pit experience without risking damage to your home or neighbor's property. Some local laws require the use of a fire pit screen on top of open fires to contain sparks, embers, and ash. But even if you're not in one of these areas, a fire pit screen must be considered for the safety of your family, pets, guests, and of course yourself.
Fire Pit Safety Screens prevent sparks, embers from breaching the pit and burning people, pets or the surrounding area. Sparks can also land on surrounding debris such as clothing or dry leaves and ignite a fire; however a fire screen can prevent these types of fire hazards. Below we highlight some different types and styles of fire pit screens to assist you on your quest to find the best fit for your fire pit.
Types of Fire Pit Screens to Consider:
Dome Fire Pit Spark Screen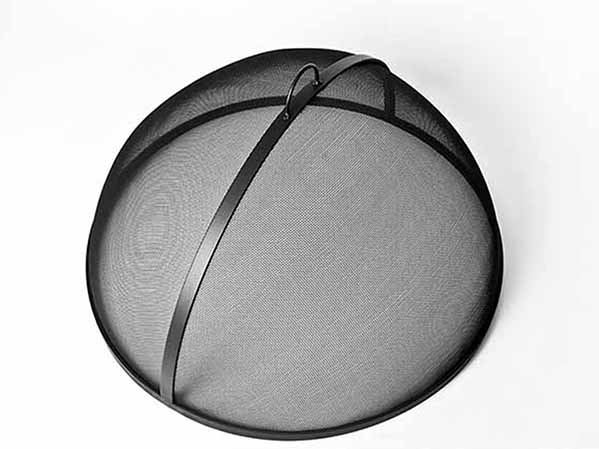 The most basic design is the lift off Dome Fire Pit Spark Screen a semicircular fire screen protector. This screen comes with a wire mesh and handle at the top. The dome screen is more economical because there are fewer moving parts and thus easier to manufacture. The only drawback to this particular screen is that you must remove the entire spark screen off the fire pit to tend to your fire which can be challenging because the larger screens are quite bulky and heavy; however it does provide excellent protection and can be a good fit for many people especially with smaller fire pits.
Hinged Fire Pit Spark Screen
Other types of screens make tending to the fire more convenient such as the Hinged Fire Pit Screen. This fire screen features two hinged doors on the front that folds on top of itself for easy access to the fire and the decorative handles on the front add a nice appeal when it's closed.
Pivot Fire Pit Screen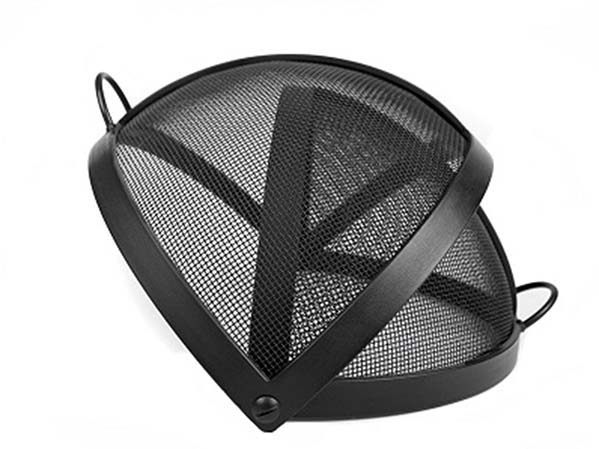 The Pivot Fire Pit Spark Screen features a unique design that allows either end to be opened to gain access to the whole fire pit. The one shown in the picture is manufactured out of a high quality carbon steel welded from 1/4″ x 1″ solid flat bar framework, its steel mesh screen is 8 x 8 per sq. inch; 23 gauge wire.
Square Fire Pit Screen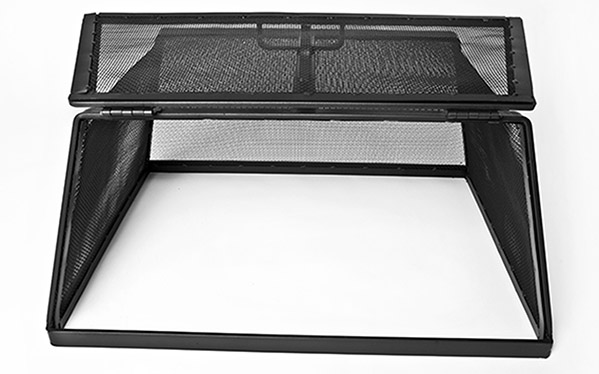 If you have a square shaped fire pit the best option is the Square Fire Pit screen. The hinged door on the front panel makes for easy fire pit management and to make handling a breeze, it has handles on both the top of the screen and the door (access panel).
Custom Fire Pit Spark Screens
If you need a high quality, durably built fire pit screen that is made to last, Yard Couture has you covered. We can also customize any of these spark screens to fit your needs. For more information or for special requests please CONTACT US.
*Make note of some other safety factors to be aware of when handling an open fire; never leave it unattended, be aware of small children and pets, keep your fire small and in control, watch for sparks and be aware of strong winds. It is also recommended to burn wood that is well-seasoned. Well-seasoned wood burns hotter and more evenly, and you can use less wood to produce similar warmth for a smaller contained fire. Seasoned wood also leaves less creosote buildup in your fire place for less cleanup later. Always be aware of local fire burn bans and non-burn days and have a fire extinguisher, water pale, sand or hose handy to extinguish the fire right away.
About Yard Couture
Yard Couture is a family-run business located in the scenic Wasatch Mountains of Salt Lake City, UT. We enjoy artistry in all its forms and are inspired by the pure, organic beauty of our planet which is why we strive to preserve it through eco-friendly practices, functional design, and hand-made pieces. We believe any space will cultivate enjoyment with the addition of exquisite and highly functional pieces.
Yard Couture is honored to provide the best fire pit screens, snuffers, and lids on the market today. We have several sizes and shapes to choose from including round, square, hinged, and dome shaped. Our fire pit spark screens, grates, lids and snuffer covers are all made from the highest quality materials and manufacturing techniques. These fire pit accessories are proudly made in the USA by true artisans who have a passion for creating both beautiful and functional products.