Posted by Amy Ryan on 27th Oct 2020
A Ready to Finish Fire Pit Kit has everything you need to create or rehabilitate the Fire Pit you have been dreaming of, except the outward enclosure. If you do not want a factory-made, prefabricated fire pit; but instead desire to create something authentic from scratch or restore a time-worn heirloom, then a fire pit kit will simplify the complicated and dangerous internal components and turn that visualization into a reality. A quality kit will make a DIY fire pit project significantly faster and safer, without compromising quality, function, or originality.
Some fire pit kits on the market today are made from exclusive materials, innovative design, and superior craftsmanship. Check out the expertly curated line of fire pit kits carried by YardCouture.com.
What is a Fire Pit Kit?
A fire pit kit includes all the components necessary to get your fire pit blazing within an afternoon's time, excluding the external enclosure which permits you the freedom to create your own one-of-a-kind structure.
With a fire pit kit you can choose from a gas or wood burning fire pit insert. A gas fire pit insert or drop-in fire pit kit includes all the pieces needed to operate a gas fire pit. A gas-fire pit insert includes a fire pit burner, burner pan, ignition system, and the option to add a flex gas line with a gas valve and key. For a wood-burning fire pit, the insert is quite simple. A fire pit metal ring can be inserted into the enclosure to protect the pavers or whatever material used and to contain the flame.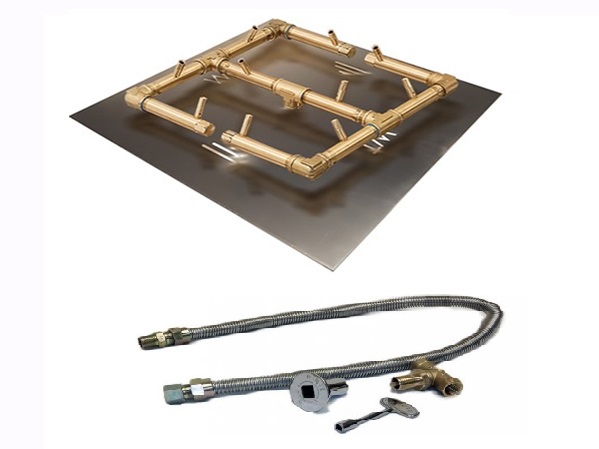 Is a Fire Pit Kit worth it?
If you are up for a weekend project, a good Fire Pit Insert kit is a rewarding investment because it instantly gives your backyard an official upgrade by creating a cozy, fun gathering spot. The kit also keeps costs down versus hiring a contractor to build and install a fire pit. Without a kit an experienced professional is critical when dealing with highly flammable gas lines.
Whether you plan to update an existing fire pit or build your own from the ground up, a burner kit will have your fire burning bright within a short afternoon. It is a simple, quick, and extremely worthwhile project; still, flames are dangerous, metals corrode, and prices vary widely. Be pragmatic and avoid buyer's regret by considering these 5 essential factors before taking the plunge into the DIY fire pit world.
1.Fuel Source
2.Materials & Construction
3.Ignition Systems
4.BTU's
5.Accessories
FUEL SOURCE
First determine how you plan to fuel your fire. Quality burners are good at mimicking a natural flame and many burners now have built in safety features such as flame control and auto shut-off. Remote, phone, or tablet control make using your fire pit a breeze; yet, if you are a traditionalist, you may still prefer the classic wood burning Fire Pit. *
*IMPORTANT: Always check with your local municipality's regulations. Sometimes wood burning is not allowed due to fire hazards and pollution. If you are debating between natural Gas (NG) or Propane, some municipalities Require Natural Gas if the location of the fire pit is within a certain distance of a NG line, therefore propane also may not be an option.
If you have the option to choose, there are 3 fuel sources we will compare now:
Wood burning
natural gas
propane: either hard lined or BBQ tank with regulator
Natural Gas (NG)
Natural gas burns clean, has good BTU ratings, and generally costs less per cubic foot/gallon; however, NG is less efficient than propane because it only converts about half as much fuel to energy and therefore may end up costing more. There is much variability on the cost difference of these fuels depending on location and source so that is something you should compare. The color of NG's burn is a less natural appearance (less yellow), but many do not mind due to its other positive qualities. Natural gas is a clean fuel and does reduce emissions vs other fuel sources, but once released into the environment it is considered a greenhouse gas, although a cleaner option still.
NG requires a hard line to connect your fire pit and while that may require more effort initially, on the other hand you will not have to store fuel on location which means it is safer than other fuels and your fuel will never run out so your fire pit will be fueled up whenever you need it. There is less soot so everything stays clean, and your fire will keep burning bright as long as you require. It will not run out of fuel like a propane tank or wood. Modern technology allows built in flame control and auto shut-off so NG is a safe and clean choice. There are many great fire pits that run off NG such as ______
Liquid Propane (LP)
Liquid propane can run off a 20lb BBQ tank so if you don't have a natural gas source, LP is a good option; however, you may want a fire pit with a space to conceal your LP tank if you concerned with aesthetics. LP creates a bit more soot so there will be more residue to clean occasionally to keep your fire pit looking and running its best. If you are using a 20lb propane tank, consider the maximum output of the tank to be 90,000 - 125,000 BTU and a regulator must be used. The reason why this is important is that the BTU rating of the 20lb tank will limit your burner options to sizes that are rated for 125,000 or less BTU. LP is the most efficient energy source. It is more expensive initially, but it converts more BTUs meaning you will use less, it lasts longer, and ultimately be the more cost-effective option.
Wood Burning
Some may still prefer the traditional wood burning fire for its smell, ambience, and nostalgia. Many city dwellers are not allowed fire burning pits, as well as seasonal restrictions. Be sure to check your local municipalities' rules and guidelines for wood burning fires. Wood burning is dirtier for the environment and its smoke can stain nearby surfaces. Wood fire pits also have no built-in safety features so you must control the flame, have a fire extinguisher, sand or a pale of water nearby to properly extinguish your flame. Yet wood burning can be an economical choice and may be the preferred choice for some.
As with any flame, be educated on fire safety and aware of all people and pets that may be near your fire. Keep a spark screen and fire extinguisher handy and educate yourself and anyone using the fire pit on fire safety!
Burner Materials & Construction
Bobe Water-Blockers - A steel tubing with the addition of brass water blockers like the Bobe Prefect Flame is the latest innovation within the fire pit burner's construction. Brass water blockers will prolong the life and performance of your burner by keeping water out of vital parts and brass itself will not corrode. If your fire pit is kept outdoors water is inevitable, and it is worth buying a fire pit with strategic design features that will keep everything working the way it should.
Crossfire Brass Burner - Brass is the ultimate low maintenance material. Prized for its tensile strength and ability to resist rust and corrosion, an insert made from brass should last a lifetime under normal use. The crossfire all brass burner by Warming Trends, although more expensive than steel, it holds its value if you want less maintenance and an enduring fire pit that withstands more than high heat, but wind, rain, and the other corrosive elements of nature.
STAINLES STEEL Burner - Steel is less expensive and breaks down quicker than brass but if you get the right type of steel, heavy gauge, that is, it can hold up to heat and corrosive elements well. Avoid 430 stainless steel, it will start breaking down as soon as it is exposed to heat. 304 is the ultimate heavy gauge steel. A fire pit insert made from 304 stainless steel is a sturdy piece of equipment that can persevere through many years of outdoor use.
Bullet Orifices are designed to compress the gas flow increasing its pressure for a fuller brighter flame. The Outdoor Plus offers their Bullet Burner design which makes it unnecessary to add an additional air-gas mixer when used for liquid propane use. All brass orifices are best because this hardy metal does not rust or oxidize due to high heat, extreme cold, and precipitation. Inferior metals will corrode and need to be replaced often.
BTU or British Thermal Unit
A British Thermal Unit (BTU) is defined as the thermal energy (heat) required to raise the temperature of one pound of water by one-degree Fahrenheit at sea level. In relation to fire pits this basically means the higher BTU, the greater the heat and flame output. To put this in proper perspective, one BTU of energy is required to light one match whereas 10,000 BTUs is the heat output of the average household stove.
A fire pit burner generally ranges from 30,000 to 300,000 BTUs. The heat output that is best for you depends on how you plan to use your fire pit, local fire regulations, square footage available, and your budget. A higher BTU means more of everything- bigger flame, more heat, more space is required, and the more the burner will cost.
Both Natural Gas and Propane may be used but your supply pressure and BTU ratings need to be regulated for both. For Natural Gas, the supply pressure should be set between 3.5" - 7" of water column. For Propane, the supply pressure should be set between 8" - 11" of water column.
Ignition Systems
With fire ignition, consider your lifestyle and space. Who will be near the fire? Who will operate it? Will your fire pit be in an urban or rural setting? There are two basic choices to ignite your fire: match-lit ignition (light your fire with a match or lighter) OR purchase an electronic ignition.
Electronic ignition
An electronic ignition system is the modern and instant way to light a fire once everything is professionally installed. With the push of a button, the fire is blazing. Again, consider who will have access to the fire ignition. Install the ignition out of reach of children or pets.
The latest digital ignition systems can be linked to a remote or smart device for easy and instant flame control. Some ignition systems have built in safety and comfort features such as these technologically advanced systems listed below.
Bobe Fenix 2.0 12v or 24v automatic ignition system. No matter the wind, your fire will stay lit and blazing. This ignition system is also easily controlled by a Remote, PC, Phone, Laptop, or switch.
The Smart Weather Electronic Ignition System is an advanced CSA certified outdoor igniter, constructed specifically to resist corrosion, wind up to 55 mph, and moisture. Choose from natural gas or liquid propane to fuel your fire.
Push Button Spark Igniter by Warming Trends is a more economical way to spark your fire pit burner into life.
Manual Match Lit
This one is self-explanatory. A match or lighter is used to light your flame. This works for natural gas, propane, or wood burning. It is the cheapest option but does require more effort to both ignite and extinguish your flame. Always educate yourself on fire safety before attempting to operate any type of fire pit and check the local rules and regulations regarding fire restrictions.
Accessories
Open fire pit lids or snuffer covers extinguish a fire faster and keep unwanted debris and precipitation out of your fire pit. A well-fitted lid made from heavy gage metal will preserve the life of your fire pit by keeping it free of contamination by moisture, damaging pests, or debris. Also, it will keep curious yet uninformed little hands from reaching in to touch still very hot embers. A quality lid is well worth the money to keep your fire pit safe and secure while not in use.
Spark screens or guards
A spark screen or guard is a metal or glass cover that allows ventilation so the fire can breathe while blocking hazardous sparks from spewing out onto people, pets, and nearby flammable objects. Safety guidelines require protective screens and covers for open burning fires in some areas but every fire pit should have one for the protection of you, your loved ones, and your valuables.
Fire pit screens and guards are offered in multiple shapes and styles from round hinged, dome lift off, square, or rectangular. Specialty sellers such as Yard Couture provide custom sizes for your custom fire pit.
If you have a large fire pit, a hinged or pivoted panel is your best option. A large metal lid is too heavy to lift on and off while tending to the fire, not to mention dangerous. An easy access panel allows quick fire pit access that anyone can handle such as this innovative carbon steel Pivot Spark Screen by Aspen industries which features a "clam shell" pivot design allowing either end of the screen to be opened for easy fire pit access. Bursting sparks and embers will spoil the outdoor fire pit experience which is why Spark Screen covers and lids are essential for a fun and safe event.
Fire glass, rocks, logs
Fire media will add a touch of personal while generating striking visuals once the fire is lit. There are several options when it comes to fire pit media and the main purpose is to enhance the appearance on the empty fire pan. There are several types available on the market including:
Fire glass
Comes in various shapes, sizes, colors and textures
Volcanic rock
Volcanic rock is a rock formed from lava erupted from a volcano.
It is available in black, red, or gray
Fire logs
The addition of fire glass or logs to your indoor or outdoor fire pit/fireplace feature to enhance its visual appeal! Unlit, fire glass is reminiscent of scattered jewels and when lit under fire, the effect is visually pleasing, producing gleaming colorful dancing flames. It's time to freshen up those antiquated gas fire logs with more modern, stylish and practical reflective fire glass and logs to visually enhance your fire feature, an ideal way to hide those unsightly pipes found in gas fireplaces and fire pits for a fresh appeal.
For all questions about any of the Fire Pit Kits or accessories we carry CONTACT YARDCOUTURE we are happy to assist you!