Product Description
Square Tapered Planter
Bobé Water & Fire commercial grade outdoor planters are well built from heavy 8 gauge cor-ten steel and made to prevail in the outdoor elements. The sleek industrial style of these planters are ideal for topiaries in entryways, patios, and pool decks*. These planters are manufactured by certified artisans in Arizona with over 30 years of fabricating experience so you know what you're getting is quality. The commercial grade Square Tapered Planters are robust enough to exhibit bounteous blooms or house small trees or shrubs. For a nice architectural appeal get creative with the placement of these planters, use them indoor/outdoor, around pools, or on decks in combination with other styles in entry ways or for your store front.
Square Tapered Planter Specifications: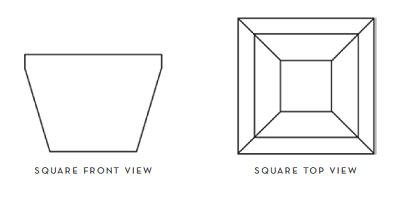 Small: 12" X 12" X 12" (8" BASE)

Medium: 18" X 18" X 18" (14" BASE)

Large: 24" X 18" X 18" (20" BASE)

Free Shipping Included

Heavy 8 Gauge Cor-Ten Construction

For Commercial or Residential Use
Custom sizing is available contact us for a quote.
Benefits of Cor-ten Steel
Other than the amiable rustic aesthetic of the copper and bronze tones, cor-ten steel develops a patina when left outdoors. Cor-ten is a unique medium that develops an oxidized protective layer around itself allowing it to have an increased resistance to atmospheric corrosion compared to conventional steels. This eliminates the need for painting and upkeep, just sit back and watch the beautiful patina develop and change over time. Cor-ten is widely used for commercial projects because of its architectural appeal and tensile strength. A multipurpose steel that can be used as casings around windows or doors or even as art sculptures, it is strong and great to look at.
* Be aware that the rust produced by this planter will stain light colored surfaces and is not recommended where surface staining is a concern. Please visit our gallery for others options if this is a concern.
Made to order has a 4 week lead time.
Other Details
1 Year Limited Warranty The manufacturer warrants fire pits against manufacturing defects that prevent safe and correct function as follows: This commences from the date of original sale / shipment from the manufacturer. This warranty is for parts and in-house (manufacturer) labor. The defective product must be sent back to the manufacturer with a Return Merchandise Authorization (RMA) issued by the manufacturer for that specific product and any other additional information for the nature of the defect or warranty claim. The warranty does not cover items that have been damaged by overheating, modification, abuse, or improper storage. Also any labor involving installation or maintenance with the unit is not covered. This warranty excludes claims for consequential, indirect-collateral expenses arising from product defects or warranty recovery.
Product Videos
Custom Field
Product Reviews